Are you tired of eating similar dishes for your lunch or dinner every day? Do you want to bring a change on your regular food item? Luckily, you are on the right track as we are going to suggest you a delicious recipe to have a brand new change on your taste. We suggest you to make a chicken burger-making process as it takes less time to make if you use good pressure cooker. There are plenty of healthy chicken burger recipes to make you have an unlimited taste. Homemade foods are good for health and you can make this food item by self, sitting at home easily.  In this article, we will discuss the way of making it and its ingredients to follow.
Chicken burger recipe:
If you can finally manage a little time for you and your family, you can please them by following this wonderful burger-making process that we are going to share with you.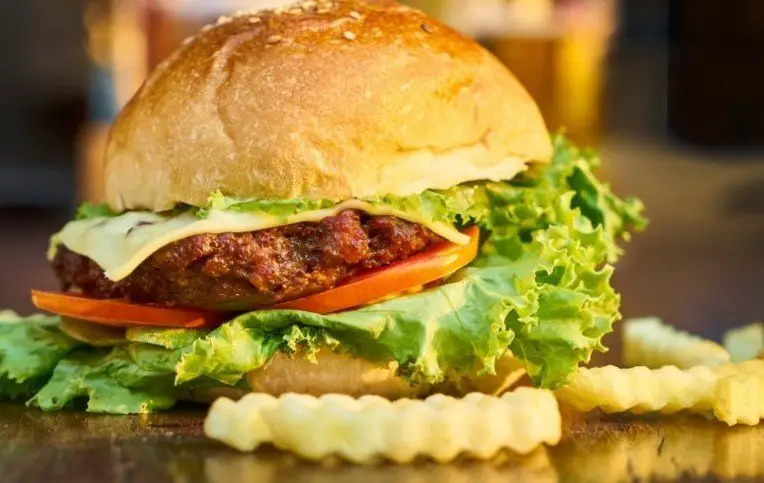 Necessary ingredients:
One pound chicken mince.
2 teaspoons small chopped onion.
Spoon garlic perfectly chopped.
Black pepper as per your taste.
Rubbed ginger 1 inch piece.
A large egg.
3 tomato slices.
Salt as per your taste.
Five lettuce leaves.
Three red chills.
Four full meal buns.
Oil.
Boiled rice.
Apple and orange juice.
Instructions to prepare a chicken burger at home
Step 1:
At first, take one pound of chicken mince on a pot. Then combine onion, garlic, egg white, apple, boiled rice, and black pepper one by one and mix them well with a hand. Never forget to add the necessary salt as per your taste. To get a tastier result, you can leave the mixture for 20 to 30 minutes to marinate in a refrigerator.
Step 2:
Next, you can heat the oil on a nonstick pan over medium heat of the flame and prepare the mixture for 16 to 20 minutes. Meanwhile, you can add the rest of the ingredients till they are well combined perfectly. Hence, you can divide the patties into 4 same size balls. Make sure you are not burning the patties with high heat.
Step 3:
You can buy the burger buns from outside or you can make it sitting at home. I am now going to describe how to make burger buns.
To prepare a bun, you need about 50 g high protein flour/bread flour as well as 250 g water.
Then in a saucepan, you can mix the ingredients thoroughly and cook over slow flame.
You have to stir it till it becomes thicken.
After that, remove the heat and put it down from the stove. Cover it with a lid or some kind of plastic wrap loosely. Then be prepared to make burger dough.
To make burger dough, you need 450g high protein flour, 50g sugar,180g cold and fresh milk, 50 g soft butter, egg, and 100 water roux starter.
Begin the process by putting all of the ingredients together in a bowl and grind it till it becomes a smooth dough.
Mix butter into it and keep kneading till soft and elastic that can take about 10 minutes.
Let the bough remain like this in a clean bowl by covering it.
Then you can apply egg blend in it and bake it in the oven at 180-degree centigrade for 25 minutes. That's how you can prepare a burger bun.
Then you should slice the full bun into two equal parts horizontally. Put a lettuce leaf over one part of the bun. Then place the prepared chicken mixture over it and coat it with the other half. Then you can serve it with sauce and other tasty ingredients as per your choice.
Are Homemade Burgers Good for Health?
Foods made in home are always safe and good for health as it maintains nutritional food value and care. They taste better than restaurant fast food. Typical they contain a high level of unnecessary calories that ends up making some unhealthy issues.  If you can make a chicken burger at home, you can control the nutritional food value and calories choosing the ingredients carefully. You can avoid fat possessed items easily when you are having a meal prepared by yourself. Generally, you are able to choose fresh ingredients to make it despite it requires more time to make. By preparing self-made burgers, you can eliminate the fear of getting sick and avoid health risk effectively. Furthermore, you can elevate obesity, heart disease, diabetes and other types of health problems easily.
Things you should remember before making a burger
Choose lean chicken to make a patty. Exclude the fat but keep it delicious. That's how you can cut excessive fat and calories from your food chart.
As you are making the recipe at home, you can increase the additional food value by mixing some veggies chopped mushrooms, potatoes, carrots, etc. To enjoy the delightful flavor, you can add beans, pulse. Before making a shape for patties, try these kinds of vegetable ingredients.
Generally, spices and herbs contain antioxidant elements. Before you are serving your delicious burger to your friends and family, add some fresh herbs and spice to it.
Choose a reasonable and healthy patty size for the burger. As you are making it at home, you can maintain the size and it looks beautiful too.
How To make Best Chicken Burger Recipes
Final Words 
Normally, homemade foods contain better quality and food value than the fast food items. It also tastes good. You can make a healthy chicken burger recipe at home if you carefully read this article with much attention. As home cooked foods are generally healthier, you should not take any health risk in any way. Keep preparing delightful burger whenever you want. Enjoy eating and be safe from unhygienic health issues.