If you have a separate utility or laundry room space at home, then getting a suitable sized sink for it can bring you a lot of blessings. Especially if handwashing clothes and spot treatment are your go-to chores inside that room. Finding the best laundry room sink that can even help you with house clean up can really take a lot of burdens out from your shoulders. And so, finally that you have taken the decision, let us appreciate your wise thought first.
Today it's going to be all about finding an appropriate and good quality laundry room sink for you…
Comparing & Reviewing Best Laundry Room Sink
The market is stuffed with lots and lots of options when it comes to laundry room sinks. Below we have shortlisted some of the most strategically perfect sinks options that will suit various people with varying needs.
Here's a comparison table to help you better, following the complete reviews. Enjoy!
Top laundry Room Sink Comparison Chart
Ruvati Topmount Laundry Utility Sink –Top Laundry Utility Sink
Highlighted Features:
16-gauge stainless steel construction.
12-inch blow depth.
24-inch-wide base cabinet minimum.
Drop-in top mounts installation style.
No matter if you're planning for a sink to complement that laundry, mudroom, or any utility space, the Ruvati Topmount is a pleasing pick to go for with a nice blow depth, ample washing space, and fantastic stainless-steel construction on hand. The Ruvati Topmount comes with a nicely designed and made drain grooves system. This has a sloppy bottom that houses around 4 grooves in total right on the bottom part of the sink. So that channeling water into the drain is super simple. And the sink stays dry and clean for this.
The Ruvati Topmount comes with a brushed finish that helps to hide scratches well too. It lets you enjoy easy cleanup. It also keeps the material long lasted. You can easily install it with a top mount style. There are mounting clips coming along with the Ruvati Topmount for easy installation. These are a bit confusing with the instructions provided. The deep bowl is around 12 inches and enough spacious. A buck with 5 gallons of water capacity can fit easily inside. So as a utility washing sink, you can have decent experience.
What We Think About The Sink:
The Ruvati Topmount is a pretty well made and comes with an elegant look. The large sink is well-matched with any cabinet in the area. Just the mounting clips on the back were a bit hard to grab correctly. Construction and appearance-wise, it's probably the finest option in this list.
Lordear Laundry Utility Sink – Best Utility Sink
Highlighted Features:
Deep bowl sink with 12 inches.
Durable 16-gauge stainless steel made.
Rust free construction.
2mm rubber silencer included.
The bottom is slopped.
Drain grooves with an X shape.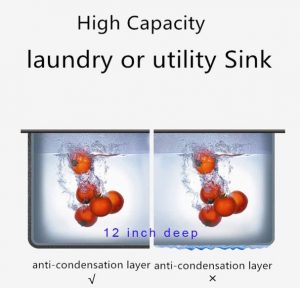 The Lordear Laundry Utility Sink is completed of T304 16 Gauge durable stainless steel providing fantastic durability. The brushed finish is dent and scratch resistance an also 1.5 mm thick for the finest service. It will last longer and make the sink extra durable for your rough usage.
There is a stainless-steel grid available and it makes draining pretty easy. Also, the drain grooves come with an X shape. So, it makes the sink channel water go toward drain pretty simple and mess-free. There is also a 2mm rubber silencer included. This makes sure there is no noise disturbance when you are washing inside the sink. It looks pretty beautiful as well and conveniently fits inside the laundry room and even kitchen spaces.
What We Think About The Sink:
The top-notch sink pick is a super hit among users and we see why. It comes with an easy installation benefit and also works phenomenally. We are just a bit upset about the instruction not mentioning what sealing to use. Other than that, it surely blows our minds with a set of fantastic features.
Transolid TC-2420-WC All-in-One Laundry Sink Kit
Highlighted Features:
Cabinet with hardware is preassembled.
Soft-close cabinet doors.
Doors are shaker style.
Stainless steel sinks.
Thick construction.
8 GPM faucet included.
Aerator included.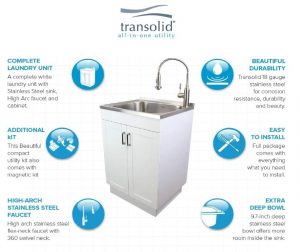 The Transolid TC-2420-WC is a set including everything that a laundry room sink era would need with decent quality pieces, with adapters and tons of POV pipes, you don't need to run for parts separately. Faucets to fittings, everything seems seamless. The Transolid TC-2420-WC comes with a preassembled cabinet and all its necessary hardware. The package involves cabinet base frame, faucet, strainer, and of course the sink itself. Also, the doors of cabinets are shaker style that enables the use of soft close. And so, it brings a lot of functionality for any laundry room.
The sink is made from high quality 18-gauge stainless steel. And the color matches with the cabinet to look beautiful and not out of context. The additional thickness used here will help to prevent scratches as well as dents. Also, this benefits with sound dampening qualities to enjoy a disturbance-free working. The trainer is removable and lets you get a very simple draining result. It comes with a very convenient faucet made from stainless steel. There is an aerator in the faucet to save you from backflow.
What We Think About The Sink:
We loved the included aerator with faucet and overall sink performance. You can use adapters for dual spray head, flex neck and garden hose feature as well. Overall, it's a fantastic option to try.
Maya High Arc Chrome Faucet & Laundry Sink – Practical Plus Convenient
Highlighted Features:
Faucet Included.
19-gallon large sink.
Pull out the nozzle.
Drainage kit included.
Easy instructions included.
Legs of metal.
Levelers included.
The package of a high-end faucet with a nice sink makes it compatible with the washing room, workshop, basement, mudroom, and also laundry space. We are talking about the Maya Faucet & Laundry Sink. The Maya Faucet & Laundry Sink is made from durable metal and ABS plastic material to provide long term usability with proper maintenance. Metal base faucet with handles and coated shanks are also nice inclusion with this pick. The faucet looks expensive both by appearance and functionality.
The faucet comes with a high arc body that enables washing stuff inside the sink very easily and conveniently. You can easily use direct water thanks to the pull-down sprayer benefit. A touch button will help you choose between a steady stream and a powerful spray. The thermoplastic made tub is very sturdy and handles around 19 gallons of capacity. The legs are made from metal that provides enough stability while you work. Overall, the features are bombs if you look at the price.
What We Think About The Sink:
For this price point, we are surely voting a yes for the Maya Faucet & Laundry Sink with a nice design, functional features, kit included pieces that are convenient to use, and also construction. It feels rigid and seems one that would last you years.
JS Jackson Supplies 19 Gallon Utility Sink 
Highlighted Features:
A thermoplastic made sink.
19-gallon capacity
4 color shades.
A customized faucet is usable.
Fits several types of faucet.
Metal legs.
Floor levelers included.
With a very minimal installation process and nice adjustable metal legs, we have the JS Jackson Supplies 19 Gallon Utility Sink next in our list for perfect laundry room sinks. The JS Jackson Supplies 19 Gallon Utility Sink is a perfect sink for those who need something sturdy enough to handle regular hard duty workloads of washing. It does not include a faucet but the design is very favorable with any sort of faucet that you would want to add providing a max space for customizing.
It also supports soap dispenser and side sprayer with many other accessories thanks to the knock-out holes' facility. You can try center set, single or widespread type when picking a faucet for JS Jackson Supplies 19 Gallon Utility Sink. The installation is very simple and only needs you to punch out holes for this. The material used for its construction assures a durable performance for long time use and it also prevents rust pretty well.
What We Think About The Sink:
The JS Jackson Supplies 19 Gallon Utility Sink has a deep and wide space that makes it super easy to wash even huge pots inside. The setup and mounting phases are simple. It's a decent option for anybody who wants to try a heavy-duty laundry sink.
APPASO 23-Inch Single Bowl Sink – With a Peaceful Anti-Noise Technology
Highlighted Features:
Silencer pad included.
Coating coverage included.
Handmade sink.
16-gauge stainless stems material,
No bend, dent or deform.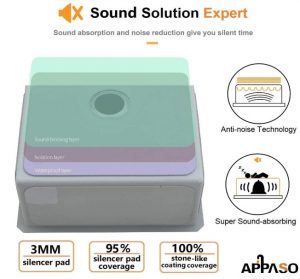 The APPASO 23-Inch Sink comes with a single wide bowl and under-mount design that also complements durability with a tough 16-gauge stainless steel included construction. Anybody would fall in love with its workmanship.
The APPASO 23-Inch Sink is made from a flawless combination of thick material, nice coating, and also coverage. And this ensures a long-time experience including the fact that the sink was homemade. There's a very dense layer for protection used on the APPASO 23-Inch Sink. This is to ensure additional soundproofing and resistance. The pad for soundproofing contributes to the sink's hardness. And that enables fantastic flatness to the sink without any fear of dents.
It includes anti-sound technology as the most eye-catchy feature. This basically makes sure that any water sound is absorbed and not causing any disturbance at all. Also, the high-tech stain nickel treatment votes for a well-prepared surface on the sink. And this will disable any scratch or stickiness to occur. This will also benefit for a very simple and easy cleanup ritual for the user.
What We Think About The Sink:
The thickness is probably the best part of APPASO 23-Inch Sink. It makes the solidity, quality, and anti-sound needs a go-to for any user. No doubt this will be a great support in your laundry room handling pretty heavy-duty washing tasks gracefully and quietly.
KRAUS Pax 24-inch 18 Gauge Stainless Steel Laundry Sink 
Highlighted Features:
T304 18-gauge stainless steel material.
Satin finish included.
Undercoating provided.
Thick pads included.
Large items are washable.
Square strainer for easy drain.
Kraus lovers will always appreciate the effort that this leading sink manufacturer provides in their products with advanced industry-standard technology and also exceptional quality. And the KRAUS Pax 24-inch is here to make us remember that once again.
Starting from the construction analyses of KRAUS Pax 24-inch, it covers an industry-standard 18-gauge stainless steel as the main material. The thickness is enough to prove density and sturdiness at the same time. The KRAUS Pax 24-inch also involves satin finish for providing a rust resistance surface. This also makes sit extra simple for cleanup.
The undercoating used for the KRAUS Pax 24-inch is non-toxic type. This supports a quite performance inside your laundry room keeping annoyance out of the door. The set includes a square strainer, towel, mounting hardware, and a template. It's a decent kit you can get for the laundry room sink need. Also, the sink is pretty spacious to handle huge bucket clean up chores easily and without much trouble.
What We Think About The Sink:
We are impressed by KRAUS Pax 24-inch size, performance, and soundproofs hugely. Doing justice to Kraus's reputation, this laundry sink rocks from construction to price. And there's no way we won't recommend it highly.
Mustee 14CP Polypropylene Freestanding Sink – The Simplicity of Installation
Highlighted Features:
Faucet included.
Double supply lines.
Sturdy polypropylene construction.
Legs are made of steel.
Stoppers and levelers included.
The capacity of 20 gallons.
Resistant to mildew.
Easy installation.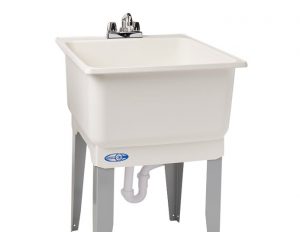 The Mustee 14CP is our final inclusion in this list that also provides a drain and faucet with the sink itself making a very stable and decent kit for anyone needing a moderately good laundry room sink.
The Mustee 14CP offers very user-friendly installation support. And that's true for even the ones who have no experience with sink installation. It comes with a molded-in drain that also supports leakproof. And there's a stopper to make the segment even emphasizing good. The sink comes with a major capacity of 20 gallons and it's quite enough for industrial use undeniably. The extra-deep tub measures 13 inches and it covers a surface smooth enough for simple cleaning.
It's quite durable with a decent construction going on. To be honest, for the price point it's quite understandable and highly anybody would feel any objection. It also includes a faucet that won't be able to give you a very pleasing performance but not absolute bad.
What We Think About The Sink:
The Mustee 14CP comes with a very priceworthy sink and it will stand up to industrial expectations pretty well. Just the faucet is a bit flimsy and we believe using another separately bought one will be the best If possible. However, the sink is no doubt a clear win in terms of price, construction, and performance.
How to Find the Best Laundry Room Sink
What factors make a sink the best laundry sink, in this section, we'll be focusing on that…
Material Choice
The first thing that you want to consider is its material type. There are many materials that are sturdy enough for a laundry room's chore handling need. You can go with stainless steel, polypropylene, thermoplastic, ABS plastic, and so on for achieving different levels of durability.
Installation Type
For those who don't have enough space to install a sink inside their laundry room can go for a wall-mounted option. Freestanding laundry sinks are pretty inexpensive and easy to install category you can try. For a more aesthetically pleasing look, under-mount laundry sinks will work best.
Coating
You also want to ensure the laundry sink comes with some sort of coating. This needs to protect the sink from all those stain attacks and prevent scratches as well.
Drainage Support
Check the drainage system as well. There are multiple options of laundry sink that comes in kit form. These usually include quality strainers, traps, and filters for decent functionality.
Size and Depth
Depending on what tasks you will be doing with the laundry sink, the size and depth requirement will vary. Some people also bath their pets inside it. in such cases, going for bigger and deeper basins becomes a huge need.
Price
When buying a laundry room sink, you should consider looking for decent features that will match your laundry room chores well. And at the same time, it must be a quality one that will last a good amount of time.
The durability and quality factor has a pretty strong connection with the price. The more it prices, the better construction should be on hand. Go for a practical option that does justice with its feature for the price it demands.
Frequently Asked Questions About Best laundry Sink
Why put a sink in the laundry room?
Putting clothes with stains with your other clothes for a regular wash cycle might not be enough. And so, you need a convenient place where you can soak that stained cloth for a thorough hand washing and special stain treatment. A laundry room sink stands as the best nominee for such needs.
How deep should a laundry room sink be?
If you need to go through vigorous scrubbing and water spraying activity with the sink, then go for the ones that have extra depth. This can range from 10 to 25 inches. While for more limited use, it's okay to continue with the average 8 inches basin depth options out there.
Can I use the kitchen sink in the laundry?
Usually, laundry sinks are huge and spacious for allowing multiple clearing tasks without much problem. A kitchen sink can sometimes feel too small for laundry room needs. If that isn't a big problem for you since there's not a lot of loads to hand wash then probably kitchen sinks can be a very aesthetic inclusion inside your laundry room.
Wrap Up
There are a lot of thoughts and factors that play major importance when you decide to get the best laundry room sink available for your need. And it's only you who can clearly tell about what certain sink will righteously fulfill the necessities of your laundry room chores.
So, when picking a sink, make sure you are not missing any important feature that will later get you regretting. Good Luck on Finding That the One!