No matter if I am talking about a commercial or a home range hood, keeping the filters well operating by regularly cleaning or replacing it is the key. And you can't skip that part out if an effortless functioning of the range hood is what you wish for. When the previous filters look like it can't take it anymore and cleaning won't be enough as well, that's when you should be seriously thinking about buying a replacement.
And to help you here I am going to discussing the best range hood filters.
Comparing & Reviewing Best Range Hood Filters
Let's talk about some of the popular filter options you can try as a replacement. Here are the complete reviews and a comparison table to help you out.
Broan S97007696 Filter – A Well-made Option
Highlighted Features:
Needs to match a suitable model.
The US-made filter.
A genuine part.
Sets up easily.
Fits nice.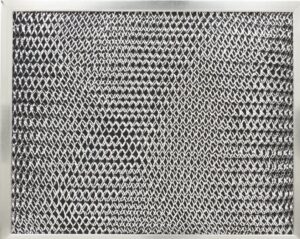 Broan is known for providing pretty future-focused products for the home that needs complete ventilation support. This filter is made in the US and is basically a genuine replacement option to go for.
A Broan S97007696 Filter is a replacement option for a charcoal filter that you can go for within budget means.  It is made in the US and works solidly with tough construction. The filter is also easy to fit for a suitable model range hood. You can do it yourself and also call a repairman to do it for you.
The pricing is actually worth it considering the fact that it's a genuine and original Broan creation. It comes with an 8-3/4 X 10-1/2 X 7/16 measurement. You will find it pretty satisfying for kitchen remodeling needs.
What We Think About It
The filter works amazing at providing the right service with its ventilation support. And so, you should be able to find it pretty useful for this price if matches with the right model range hood.[/su_box]
Broan-NuTone BP29 NY NV 403 Alum Grease Filter for Range Hood
Highlighted Features:
8-3/4H x 10-1/2W x 3/32 measurement.
An aluminum-made filter.
Suitable for NY & NV hoods.
Additional shine provider.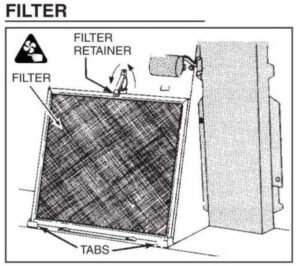 The Broan-NuTone BP29 is an aluminum filter and also ducted in design. It fits multiple hoods and provides a nice functionality to improve internal air quality.
The filter is made from high-quality aluminum material that works excellent for providing extra durability as well as shine. It adds a bright look to the existing range hood after including.
The filter is basically a replacement for range filters from NY and NV. This suits the 11000, 40000, F40000, 42000, 46000, 52000, 53000 series and provide a perfect fitting.
Also, it works well by keeping the range hood's performance on the top peak. It is also very practical with the pricing tag. The china made filter works excellent as a replacement for most parts considering the value.
What We Think About It
It comes with a very thick construction but provides zero imbalance due to that fact while function. The provided retainer clip works very well with the fitting.
Broan-NuTone BPQTF Non-Ducted Charcoal Replacement Filter
Highlighted Features:
Meant for Broan's QT20000.
Charcoal filter.
No duct setup.
Sturdy construction.
1-1/4″ x 11-3/4″ x 11/32″ ideal measurements.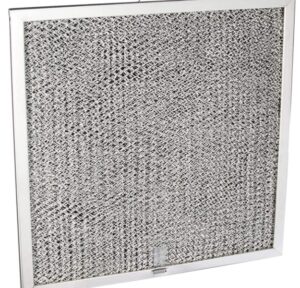 The Broan-NuTone BPQTF is a charcoal filter that is well working in providing a durable performance along with the range hood if fitted the right way.
The Broan-NuTone BPQTF is a pretty nice pick to try if you are the owner of the series QT20000 range hoods. Along with the excellent range hood, it can provide a nice setup to keep your indoor air quality at its best. It's good at working for a long amount of time without the need for another replacement any time sooner.
This replacement filter also works excellently with odor elimination from the kitchen after cooking. Charcoal filters are known for being great at enriching the superior levels of a range hood. The Broan-NuTone BPQTF is no different.
What We Think About It
The Broan-NuTone BPQTF will work great with ductless range hood. It works very well to keep the odor and steam out of the problem. Also, this filter works probably the longest without the need for another replacement because if any gunk or dirt inside. And so, it's definitely a value for money option to go for.
Broan BP57 Aluminum Filter – A Complete Package to Get
Highlighted Features:
Imported quality.
Grease trap filter.
Made from aluminum.
Pads and clips included.
11-3/8″ x 11-3/4″ measurement.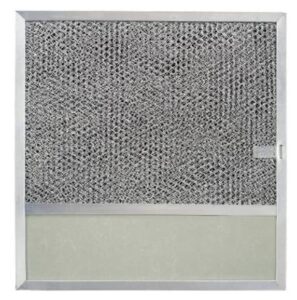 The Broan BP57 is an aluminum filter that works best for indoor environment filtration needs and fits just the way it should with the range hood.
The Broan BP57 is a well-made aluminum filter that works best for supporting range hoof on eliminating impurities from your indoor air. It is basically meant for the Broan 4300 series range hoods. The filter is pretty good at keeping the moisture, smoke, and airborne issues apart from your kitchen along with the suitable hood.
The Broan BP57 is also a ducted filter that comes along with a charcoal pad. It helps it spot ventilation as well as hating products with excellent capabilities.
The construction is also noteworthy. And this filter is pretty promising with durability as well. The highest quality material used for built-in makes the possibilities of strength and durability get a good score.
What We Think About It
If you manage to get the measurements right with the Broan BP57 and it matches with your range hood, this can be a pretty solid choice to make. It is also believed to be long-lasting even with constant using and that's definitely something to praise about.
Broan-NuTone Broan BP55 – Meant for Air Care and Aubrey
Highlighted Features:
Imported quality.
Made from aluminum.
8-Inch by 9-1/2-Inch measurements.
Durable built-in.[/su_note]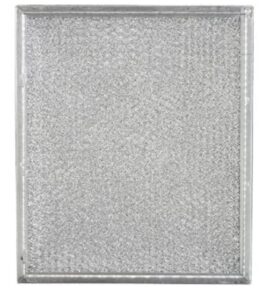 The Broan-NuTone Broan BP55 is a reasonable and well-made aluminum grease filter for a range hood that comes with amazing functionality overall.
The Broan BP55 is an aluminum grease capturing filter that works well with a few Air Care range hoods. It also goes well with the Broan and Aubrey range hoods. This is a very well-made filter that shows excellent results for capturing grease from the air of your kitchen while you are cooking. It along with the range hood works super fine once you ensure the fitting is right.
The Broan BP55 is an amazing option to try for spot ventilation requirements as well as enhancement to whole-house air systems. The range hood is also praised by its users for providing pretty long-lasting services that require fewer replacements in the future.
What We Think About It
The Broan BP55 is definitely a very good option to try if you require an aluminum grease capturing filter for your range hood. It is well made with high-quality aluminum that is supposed to last you a decent time of usage.
Broan BPS1FA36 Replacement Filter
Highlighted Features:
A pack of two.
Matches 36″ QS2 and WS2 series hoods.
Constructed with aluminum.
Dishwasher safe for easy cleaning.
Another 30-inch size is available as well.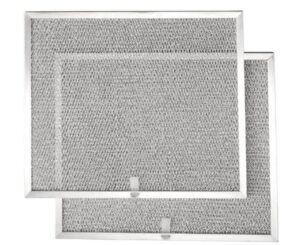 The aluminum filter does an amazing job with right fitting results along with a QSA and WS1 series range hood. It helps with your indoor air system in a fantastic way without being overly expensive. The Broan BPS1FA36is a well-made aluminum filter that works excellently for your range hood's air improvement function. It provides the right support to the actual device for getting rid of all the air impurities to keep the environment pleasing.
The Broan BPS1FA36fits mostly rang hood series QS1 and WS1. However, there's also another 30-inch size to get if is needed. It also is less hassling to clean since the filter works with a dishwasher. This package includes two filters and for the price that's an amazing deal to crack. Also, it fits very nicely without leaving space to complain.
What We Think About It
The Broan BPS1FA36is a good option you can try of cleaning the filter from time to time isn't a bad thing for you. It comes with pretty solid construction quality and prices reasonable for the functionality. Definitely worth a try.
How to Choose the Best Range Hood Filter?
There are some key pointers you want to keep in mind while making a choice. Though these are pretty basic as considerations, you should still not ignore the importance of these factors that ensures you are getting something worth your money.
Durability
First of all, no matter if you are getting an aluminum or charcoal filter, make sure that it is made well. The material needs to be of good quality to last you a satisfying amount of time. And that will also need good built-in quality.
Right Measurements
You also want to ensure that the range hood filter you're wishing to get does match your existing range hood. If you fail to recognize the right measurement here then there's a good chance of encountering improper fitting. So, know about the right measurements beforehand.
Easy Cleaning
Charcoal filters are usually meant for repacking again and again. However, if you are getting an aluminum-made filter, look for some easy cleaning capabilities. The ones that support dishwasher safe cleaning will be your ideal bet for the most part.
Affordable but Not Cheap
The price is definitely a key matter to think about when looking for a good replacement filter. Don't be very typical by only looking for cheap alternatives. The ones that prices slightly more will definitely provide a good amount of solidity to last longer. And in the long run, it should be practical and that's how you can rest assured that your money is not being wasted.
How To Clean Your Range Hood Filter
Frequently Asked Question About Best Range Hood Filter
Why you should buy best range hood filters?
If you keep on using an old and nasty filter that has a lot of grease on it, your odds of getting a good filtration gets very low. Since with a fat and grease build-up filter, you won't be able to get the complete effectiveness of your range hood, that's why it's important you replace the filter when it is needed.
How frequently should you change filters?
Depending on how long you cook or what type of food you make, this matter will keep on varying. However, the general rule is if someone makes a lot of oily food and spends hours at the kitchen, then the range hood filter would have to work with more effort. And so, it will wear out sooner. So, if this is your scenario then definitely go for a replacement every 4 to 8 months.
Final Words About Best Range Hood Filters
And that was our take on the best range hood filter. Picking the ideal match for your existing range hood may sound confusing. But in reality, with a little information and some thoughtful approach you can easily get yourself a right fitting replacement filter with not much problem.
Just make sure you know what exactly the requirements are for your best range hood filters. And take your time to find that. Best of Luck!