Last Updated on May 2, 2021
If you rate the floor types, Linoleum was once one of the most expensive floors back in the 60s. Over time, the manufacturer worked on their products and made it cheaper. However, the shine of the linoleum floor only went brighter even after being affordable!
These floors are usually used in commercial spaces and homes because of the water-resistant and durable finish. However, cleaning the linoleum floor is confusing to people as they don't understand if they need to use water or how to clean it properly.
Best linoleum floor cleaner machine Review (Top picks)
So, today, we will talk about the best linoleum floor cleaners on the market that can keep your house cleaner than ever! Let's have a look!
VMAI Floor Cleaner- Best Cordless Electric Mop
Highlighted Features
Cordless battery-powered design
LED headlight added
Dual-spin motor
Both wet and dry cleaning available
Free-standing compact and lightweight design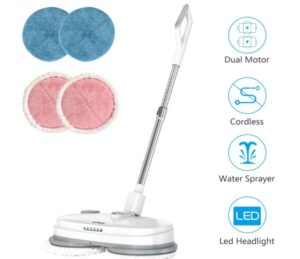 When you are up for a cordless electric mop that can clean all hardwood floors including the linoleum floor, you can get your hands on the VMAI cleaner. As this cleaner is cordless, you don't need to worry about the sockets. You can take it anywhere inside the house and work without the worry of the cord. As this is designed especially for the hardwood floor, it is highly powerful. The best part is this one includes dual-spin motors to afford you a heavy-duty job.
It will work at 250r/min and remove all the dirt from your house without any glitch. On the other hand, carrying it all around the room will be the easiest work for you as this only weighs 6.9 lbs. Along with the linoleum floor, you can make it work on the tile and wood and make them look like new with the floor scrubbers. Even in the darkness, the LED headlight can guide you if you are searching for the stains on the floor and cleaning them. Another amazing fact about the floor cleaner is the free-standing design which makes it easy to stand anywhere you want! It has a 60degree rotating part that helps you clean under your upholstery too.
With the set, there is a 300-ml water tank added. So, you are ready to go for both dry and wet mopping with the spray technology of this best linoleum floor cleaner.  The battery that comes with the kit is removable. All you need to do is charge the battery and get back to work. For dry mopping, it works for 35 minutes, and for wet mopping, it will work for 20 minutes.
Shark Steam Pocket Mop Cleaner-Best Linoleum Floor Cleaner Machine
Highlighted Features
Power corded cleaner
Built-in XL sized water tank
Designed for cleaning and sanitization
Steaming option available
Swivel steering included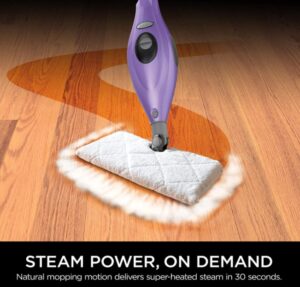 You cannot imagine the best linoleum floor cleaner machine listed without Shark. Yes, so can't we! This Shark mop cleaner can be the best deal for people that are too worried to sanitize their house.
The thing that makes it different from the other regular cleaners is the sanitization percentage. It doesn't only clean but also sanitizes your house with 99.9% purity. This has a steaming method added with the cleaning. The built-in tank included in the set is XL size. So, you already understand how much water it can carry! Pour water inside and clean the whole house, it will serve you for a longer period! As this one is not cordless, the cord is added with the kit.
The product has 18 feet power cord and all you need to do is plug in the cord and start working. As it is corded, there is no worry about a low battery. You can work as much as you want! The steaming method will only work if you switch it on. On the contrary, the sanitization work it does has no harsh chemical included. So, your kids, pets and your family will stay germ and dirt-free throughout the day! The swivel steering makes the kit flexible. So, you have to move less to get more outcomes!
O-Cedar Top Spin Linoleum Floor Cleaner
Highlighted Features
Spin mop design
360-degree swivel facility
Adjustable height
Dry and wet both cleaning available
No-bend design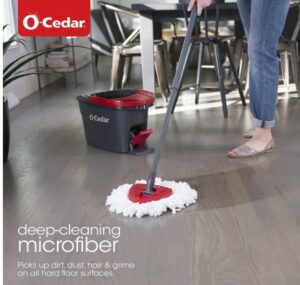 This spin mop has a completely different design than the other mops mentioned here. It has a spinning design that helps you clean twice better. All you need to do is hold the mope and keep it loose. There is a foot pedal added on the bottom part of the cleaner. Step on it and it will activate the wringer. After pushing the pedal to wring, it will start its work. People having back pain or leg-pain will love this cleaner because it is highly flexible. You don't need to bend down to clean the floor.
Also, this is the best one for the winter because you don't need to wet your hands at all! Keep your hands clean and back pain-free with this O-Cedar mop. The head of the mop is triangular and so, you can easily take it to the corners of your room for cleaning purposes. When the machine spins, the water splashes stay inside the buckets to keep your body and floor free from extra water.
As it is designed with microfiber, it keeps the floor scratch-free. The best part is you can go for both wet cleaning and dry cleaning with the mop. The length of the stick is adjustable to 51 inches. On the other hand, the cleaner head is also movable. The swivel 360-degree rotation gives you the ultimate flexibility and maneuverability.
Domi-patrol Microfiber Floor Mop- Best Cleaning Mop for Hardwood Laminate Tile Floors
Highlighted Features
360-degree swivel head
Large water tank included
Comes with a multifunctional scrapper
Both dry and wet cleaning available
Hair removing facility added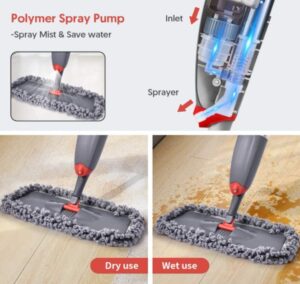 Lovers of swivel mops, this can be the ideal bet for you! This best linoleum floor cleaner by Domi-Patrol has a mop head that is 360-degree swivel in design. So, it is easy to get into the darkest areas of your room to provide you a perfect clean-up. The pole is made of highly sturdy aluminum alloy. For collecting the dirt and dust, the microfiber pad is enough. On the contrary, the pad is machine washable. So, you can clean the whole house with it and then clean it on the machine.
If you have a small housing and storing your mop is difficult, rely on the wall-mounting facility of the cleaner. From marble to ceramic, linoleum to hardwood, you can clean anything with this cleaner. However, taking the cleaner here and it is easy as it is very lightweight in design. The water tank can hold 635ml water easily so that you can get wet cleaning properly. For squeezing water properly, there is a multifunctional scraper included. On the other side, there is a comb-shaped part. If you are worried about pet hair, you can have faith in it. This one can remove hair from the floor providing you the perfect dry cleaning effect.
Hoover FloorMate Deluxe Hard Floor Cleaner Machine
Highlighted Features
Includes dual tank technology
Lightweight design
Dry and wet both mode available
Fingertip facility added
Designed for houses with stairs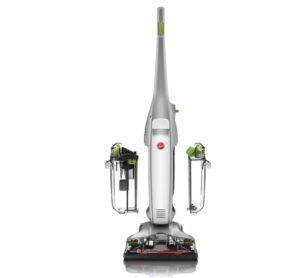 If you are facing a hard to get the right cleaner for your floor, this can help you out. This Hoover cleaner is best for the Linoleum floor. However, it works amazingly on the hardwood, laminate, tile, and vinyl too! The whole kit is designed depending on dual tank technology. It provides clean water for cleaning the floor and gathers dirty water off the floor. The dual-tank helps in keeping the dirty and clean water separate and your floor perfectly clean. Just like the other mops we mentioned here, it also is lightweight in design.
The weight of the mop is only 14 pounds and carrying it inside the house is easy! Houses that include stairs need this clean today! It includes a fingertip control facility too. You can also settle for Clean Boost Control if you want. With this, you can allow the extra detergent on the tough stains. This one is also designed for high-traffic areas. The mop goes with both dry cleaning and wet cleaning. If you settle for the Wash mode, you can use the brushes for cleaning and at the same time, it will use the suction power for taking the excess water inside.
On the other hand, if you go for the Dry mode, the brushes will stop the suction of extra water. As a result, the drying power will improve and you can clean for a longer period.
BISSELL Power Fresh Steam Mop, Floor Steamer-Best Hard Wood Floor Cleaner
Highlighted Features
Corded electric steam mop design
Three steam modes
Flip down scrubber included
Fragrance discs added
Removable water tank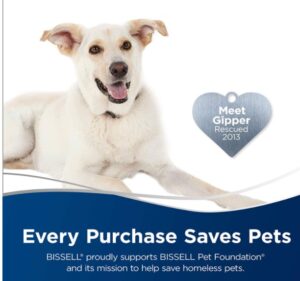 Bissell is known for its home equipment for a reason and you can understand it if you get this steam mop. It is an electric mop and this works with a cord. There is a 23 feet power cord added with the kit. The mop can clean the floor along with sanitizing it.
The sanitizing process doesn't include any harsh chemicals and keeps your house germ-free. The interesting fact about this mop is the cleaning power settings. There are three different steam control settings available here. You can go for low, medium, and high digital settings included. Choose any one from them! If you are tired of the sticky and tough messes, you can go for the scrubber that will take out all the dirt.
The kit includes a soft pad and a scrubby pad made of microfiber along with spring breeze fragrance discs. If you are tired of cleaning carpet, let us tell you, this doesn't only clean carpets but also helps in gliding carpets! The fragrance discs help in spreading fresh scent when you mop! On the other hand, the water tank that comes with it is removable. It goes to the corners and takes out everything that annoys you!
FAQs on Best Linoleum Floor Cleaner Machine
Can you use a steam cleaner on the linoleum floor?
People often get confused about using a steam cleaner on linoleum floors. However, it is amazing if you get the right steam cleaner for this type of floor. These cleaners are safe and have a high potential for taking out all the dirt.
If you stick to steam cleaning, make sure you do not do it every day. Rather you can use a steam cleaner on the linoleum floor for two days a week.
How do I know if my floor is linoleum or vinyl?
Yes, we understand that linoleum and vinyl look almost similar and that's the reason people often get confused about these two. If you understand the difference between real wood and hardwood, you already understand the difference between the linoleum floor and the vinyl floor.
The surface of the vinyl wears over time. With it, the pattern will also disappear. On the contrary, the pattern you see on linoleum is embedded. As a result, it doesn't work the same way vinyl does.
What is the best way to clean the linoleum floor?
Hot water with vinegar can be amazing for cleaning vinyl floors. On the other hand, you can add some dish soap to make the cleaner work better. All you have to do is mop the whole floor with this mixture. It is better if you get an electric mop or floor cleaner and use this mixture inside the water tank. It will clean all the tough and sticky messes of the floor.
What are the best floor cleaners for linoleum in the market?
There are several cleaners for linoleum floors available in the market. Among them, Hoover and Bissell are the most popular among the users for a high-quality product.
However, other brands like O-Cedar and Domi Patrol have amazing user reviews. Just like the popular Shark cleaners, VMAI is also getting popular for cleaning linoleum floors among the customers.
How do you shine old linoleum floors?
If your linoleum floor already looks dull, there are methods of making them look shinier. In this case, you can settle for ammonia along with warm water. Select a mop for cleaning and clean the floor spraying this cleaner. In this case, after spraying, you have to wait 5-7 minutes so that the mixture can sit on the floor. Then scrub the floor to make it shiny!
How To Clean Linoleum Floors
Buying Guide to the Ideal Cleaner for Linoleum Floors
Type of Mop
There are different types of mops available in the shops for you. There are steam mops along with regular mops. You can get mops that have more than one pad. Also, some mops are great in only dry cleaning where the other mops can be amazing for both types of cleaning. We recommend you to get the mop that has both a dry and wet cleaning facility with several pads.
Versatility
In cases, some people have different types of floors in different rooms. However, it is not possible to get different cleaners for different rooms. So, it is better to get a cleaner that can work on several floors. As a result, you can use it for different rooms without complications.
Water Tank
The water tank of the floor cleaner is required for storing water inside it for cleaning purposes. If you have a larger house, you will need a large cleaner. If you go for the small cleaner, you might need to refill water again and again. On the contrary, for making it handy, you can also settle for small tanks. It will be lightweight in that case.
Maneuverability
If the tool you use cannot clean the whole house properly, there is no use in it! Make sure it is easy to use. Check if it can clean the corners of the house or not. Maneuvering it should be easy for you. In some cleaners, there are options for bending it so that you can reach the tough-to-reach areas. Also, some cleaners don't require you to bend at all! Some specific ones are compact and can be mounted on a wall. Get the right one for you.
Sanitation
There are thousands of mops that provide cleaning facilities. But if you are careful enough about the house and your family, you must get the one that has a sanitizing facility with the cleaning one. The steam power of the mop will help you sanitize the mop. However, make sure that the sanitation process is completely free from harsh chemicals.
Durability
Not all cleaning devices will be constructed with the same materials. Also, different manufacturers provide different efforts on creating their products. In this case, it is tough to understand which one to go for and which will last for an extended period. We recommend you check our mentioned cleaners for the linoleum floor. These will never let you down. Also, always try to stick to famous brands because they are loved by the users for a reason!
Wrap Up
If you are still with us, you already know the best linoleum floor cleaners on the market. All you need to do is pick the right one for you according to your preference. Trust us; no cleaners mentioned above will disappoint you! Also, comment below which cleaner you use for your linoleum floor? Share with us how you clean your floor!