Looking for a range hood insert to help your kitchen space a bit by eliminating those unwanted smoke and odor is a good approach. With so many options and brands coming up with tons of quality venting solutions, insert types are best for households for their compactness and ease of use. Residential range hood inserts are not a very huge pain to figure out when you have the right information around. And to make that happen, we are talking about some of the best range hood insert options available along with a handy guide to route you right. Keep on Reading!
Complete Reviews for Best Range Hood Insert  with Comparison Table
Let's not wait any moment and dive deep into the complete reviews for the recommendations that we managed today. The reviews will be right next to the comparison table provided below for better understand.
KOBE Range Hoods INX2936SQBF-500-1 Built-In/Insert Range Hood
Highlighted Features:
Stainless steel construction.
550 CFM.
3-speed options.
3W light s provided.
6-inch round exhaust.
Baffle filet is included.
Mesh filer is included.
If you are looking for a quiet, good looking and budget-friendly option then definitely have a look at the KOBE Range Hoods INX2936SQBF-500-1. The KOBE Range Hoods INX2936SQBF-500-1 is a decent hood you can get for the kitchen without much problem. It just needs any regular electric outlet close to where you want to install it. It is made from commercial grade stainless steel providing enough durability on hand. The finish gives a very professional vibe. Both the finished edges and interchangeable grates give a great look.
It also comes with a finished cover. That is one reason why there's no rough edge noticeable of stainless. A drill, elbow and some common tools will help you for installation, this can be a little tricky if you've never done it before. But not extremely hard although. There is also a damper included that fits nicely on hood's top. Also, the fan makes pretty much no noise. In medium speed and high speed, you can, however, listen to some noticeable sound. No vibration problems as well.
What We Think About It:
The bright lights are very convenient to easily cook and the fact that it makes less noise plus vibration, the KOBE Range Hoods INX2936SQBF-500-1 is surely one of our top favorites in this list.
Broan Power Pack Range Hood Insert – With a Quality Exhaust Fan
Highlighted Features:
Aluminum Made.
Three-speed slide controls provided.
Lighting area enclosed.
40-watt candelabra bulbs supported.
Quick-release filters.
ADA compliant.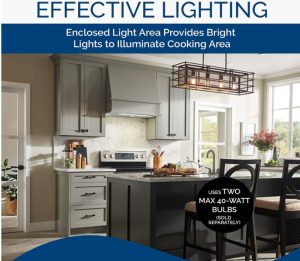 The finest ventilation and lighting benefits sitting right above your stove every time you enter the kitchen can really upgrade your mood of cooking instantly. That vibe is quite similar to get with Broan Power Pack; the one will be reviewing next.
The KOBE Range Hoods INX2936SQBF-500-1 comes with three-speed slide controls. This is capable of providing 250 CFM of exhaust and allow improved quality ventilation and lighting effectively. The light area is enclosed and holds space for incandescent light. You can use two 40-watt candelabra bulbs here. The bulbs are not included though.
The KOBE Range Hoods INX2936SQBF-500-1 comes with an aluminum mesh filter. This one-piece part is pretty easy to clean and allows washing. The performance is good since it can catch grease and keep your kitchen smelling fresh for a good amount of time. Cleaning and surface are also very less time-consuming. The filters support quick releasing and also these are dishwasher safe for convenience.
What We Think About It:
With a very within mean price tag and easy to clean up design, the Broan Power Pack is a value for money insert you can try. We were not very fond of the installation instruction though, but it's still easy to figure out. Decent lighting and less noise make it a worthy pick undoubtedly.
Broan-NuTone 413004 Ductless Range Hood Insert
Highlighted Features:
Ductless design.
Protective lamp lens provided
Supports up to 75W bulb.
Replaceable charcoal filter.
Rocker switches are provided.
30 inches.
18 inches minimum height requirement.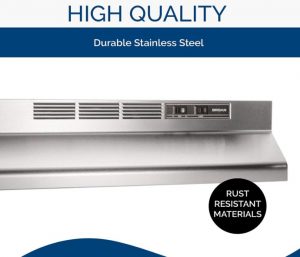 A ductless range hood inserts meant for under-cabinet installation that boosts your kitchens ventilation as a decent insert should do, we are talking about the Broan-NuTone 413004.
The Broan-NuTone 413004 is 30 inches under cabinet installation styled hood insert that is also ductless. The stainless-steel hood insert is super durable and allows for fantastic ventilation and lighting benefits. The filtration system works effectively to remove any nasty smell or smoke from your kitchen space. Up to 75-watt incandescent lighting is possible for the cooktop. You need to buy bulb separately, however.
The provided charcoal filter is replaceable. You can enjoy a quality performance for capturing grease inside your kitchen thanks to the filter. To control the light there is sperate rocker control available. It's super easy to control. Also, this allows 2-speed fan control. You need to install it a least 18 inches up from the cooktop.
What We Think About It
The Broan-NuTone 413004 is an option we find totally appropriate for those who are thinking about a complete kitchen remodeling. It provides a very simple installation that any experienced do-it-yourself person can manage to complete easily. The fan is great at moving air and also filtering. Odor filtration could be a bit better but it still holds an excellent score overall.
Broan-NuTone 423001 30″ White Ducted Convertible Range Hood Insert
Highlighted Features:
Light and exhaust fan provided.
The round vertical duct of 7 inches.
190 CFM.
Up to 75W bulb supported.
Separate rocker switches.
30 inches measurement.
Minimal 18 inches height requirement.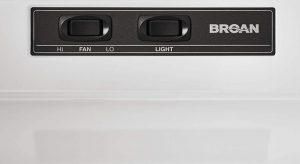 Next in our list is the Broan-NuTone 423001 that is again from the same brand and this one also exceeds the expectation through performance with its smart vertical duct, protective lamp lens, and design.
The Broan-NuTone 423001 comes with a 190 CFM rating that can stay above your stove and provide optimal quality ventilation and lighting constantly. The seven inches round vertical duct provided along with works just fine and it is very convenient for use. The lighting system is a protective lamp that is capable of providing even distribution of light for a more enjoyable cooking experience.
The Broan-NuTone 423001 comes with an aluminum mesh filter for capturing all your kitchen grease nicely. You can easily clean it since the filter is dishwasher safe. To control the light and 2-speed fan, there is a rocker switch available. It's easy to use and you can manipulate the speed plus light the way you want.
What We Think About It
The Broan-NuTone 423001 is a very standard and no-frills vent hood that does a satisfying job and stays quiet. It does not come with vent flaps though and also there's no electrical cord. Apart from that, it's a pretty nice affordable option to try for the kitchen.
Broan-NuTone 403001 Convertible Range Hood Insert 
Highlighted Features:
160 CFM provided.
Vertical and horizontal discharge.
Dishwasher safe filter.
The fan is 2 speed supported.
HVI 2100 Certified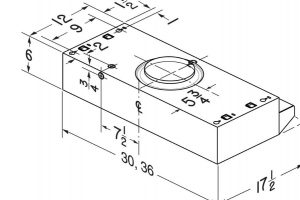 Keeping your kitchen fresh will feel easier with Broan-NuTone 403001 that provides grease capturing mesh filters with some amazing functionalities.
The Broan-NuTone 403001 comes with 160 CFM and 6.5 sones that stay over your stove to provide decent lighting and ventilation support constantly. You can get a vertical or horizontal discharge with the 3.25" x 10" ducted opening. It supports 75W incandescent lighting but the bulbs need to be purchased separately. The lamp lens comes with extra protection and also it evenly distributes light for a pleasing cooking session.
The Broan-NuTone 403001 provides a one-piece aluminum filter as well. It is a hassle-free filter that is dishwasher safe. The filter also works effectively for keeping your kitchen space free from grease. You get top or rear exhaust options with the fan. The versatile fan also allows a very simple ductwork connection for easy user experience overall. The insert measures around 30 inches. You can fit it above your cooktop maintain a minimum distance of 18 inches.
What We Think About It
The Broan-NuTone 403001 is a nice option with a fan that works great for both settings. It has good light without the need to twist bulbs too hard. The sealing can be even better if you apply some silicone caulking. The smooth surface makes cleaning simple and effective, we liked it.
KOBE INX2730SQB-700-2 Brillia 30-inch Built-in/ Insert Range Hood
Highlighted Features:
550 CFM provided.
Baffle filters provided.
18-gauge stainless steel made.
3W LED lights.
Six inches round exhaust.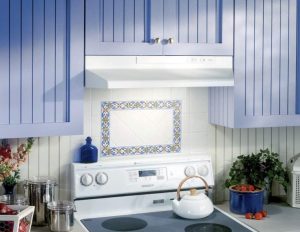 The final one in this list is KOBE INX2730SQB-700-2 that comes with all the decent features you would want to have from a quality insert. The design, finish, speed modes and light make it get a place in our list.
The KOBE INX2730SQB-700-2 is a 3-speed supported insert that is made from durable material. It is completed from 18-gauge stainless steel that is commercial grade. The design looks seamless with the satin finish that comes along. This insert comes with a magnificent power with 550 CFM. The mechanical push button lets you enjoy three modes. These are high, low, and quiet modes.
The lighting system is also very effective and it allows 3W LED lights. Its illumination is pretty vivid and you can enjoy cooking with this amount for the most part. It also can very well handle a custom cabinet fitting. The fit is snug and secure if done right. The exhaust provided is the top six inches round. You also get baffle filters with the KOBE INX2730SQB-700-2. From looks to functioning, it makes an excellent score for all its features.
What We Think About It
The KOBE INX2730SQB-700-2 comes with almost no issues and super simple by setup. It provides you a powerful performance and does the job as it should. You can add a box hood cover for a more aesthetically pleasing look. 
How to Choose the Best Range Hood Insert?
There are some key pointers or factors that can enhance the possibility of getting a suitable insert of your choice. Here are some wise thoughts that may help you find your right range hood insert for your home.
Less Noisy
Get a range hood insert that will not ruin your mood with an irritating sound whenever you enter the kitchen to cook something. When you get home tired and want to quickly sort out making dinner, the last thing you would want is an annoying sound coming from above of your stove.
Good Craftmanship
You want to pay attention to what material the range hood insert is made from. The material choice will say a lot about how long this insert will last you. Go for something sturdy enough to handle your regular life usage needs. Stainless steel made options are good for this purpose usually.
CFM Levels
The CFM rating of a range hood inserts decided how powerful the machine is. You want something from 150 to 600 CFM for regular kitchen use. The more the rating, the better will be its performance.
Lighting
Range hood inserts come with lighting benefits for you to have some illumination above the stove. This makes cooking very convenient and pleasing. You want to make sure the provided lighting scheme will be enough to satisfy an even distribution. Incandescent lighting and LED bulbs are pretty good options here.
Price
When you are deciding a budget for range hood insert, it's best to consider the main features that you'll need in the device. You can avoid high-end models that come with fancy features or extras. But do make sure you are not buying something too cheap and compromising the quality. Picking an affordable choice is wise, but not for the cost of compromising quality.
Frequently Asked Questions About Top Range hood inserts
What is the difference between a range hood insert and an under-cabinet range hood?
If you have existing cabinetry above your stove, then the under-cabinet range hood will work for you. Most come with outer stainless-steel housing. And this makes it work without the need for any additional framing.
Usually, these are stand-alone types. On the other hand, for custom cabinetry or hood surround, the range hood interest works best. You can easily hie them from your guest's view in many ways.
How much does it cost to install a range hood insert?
Depending on the model, provided instruction, and complexity, the charge is going to vary. It starts from hundred dollars usually.
Most will take a few minutes to finish the installation. However, if you are a person who does a lot of DIYs, then the installation can be done by you as well. Just make sure to focus on what instructions say.
Why is the range hood insert necessary?
Keeping harmful chemicals, grease contaminants, and dirt outside the kitchen must be your concern. And on that perspective, having a range hood insert becomes important. If you frequently cook stir-fry or prepare steaks and pizzas, then investing in an insert will help a lot.
The airborne grease and dirt will not be a concern through that. These are really prone to accumulate over your walls, appliances, and counters. Also, people who have skin irritations would want to consider this.
Especially if a sufferer of asthma or asthma-like symptoms. Inserts ill also minimize the vent hood's visual impact on your kitchen. It'll stay hidden from your visitors not ruining any decoration scheme that you are following.
How to Install A Range Hood Insert Motor Into A Custom Hood
Wrap Up
And we just reach the end of today's discussion on the best range hood insert. Hopefully, this much information will be sufficient for you to make a wise choice ahead. Take your concerns, needs, and priorities into consideration when getting confused between two choices.
Look for something that you need rather than something you will like to have. Spending money on features that will actually work in the long run for you is what you should be prioritizing the most. We Hope You Make a Decent Choice for Your Lovely Kitchen by The End of The Day!