When you cook at home, you need to think about venting the smoke and fumes out from the kitchen space. And that's going to happen with some proper range hood. For quality pollutant extraction and to fit well with bigger kitchens, often wall mount range hoods are considered best in choice.
So, to take in charge of those harmful element's removal from your kitchen air, think about relying on the best wall mount range hoods. And to make that happen, we are here with some iconic and price practical models' complete reviews. Keep on Reading!
Reviews of The Best Wall Mount Range Hoods in 2021
Let's not wait anymore and get to know the recommendations we have for you today with their complete reviews coming up next. Before that, have a look at the comparison table right below to grasp a quick idea about each of the models.
Top Wall Mount Range Hoods Comparison Chart
Cosmo 63190 36 in. Wall Mount Range Hood 
Highlighted Features:
Push-button controls included.
Dishwasher safe filters.
430-grade 20-gauge stainless steel made.
2W LED lighting.
380 CFM rating.
Noiseless functioning.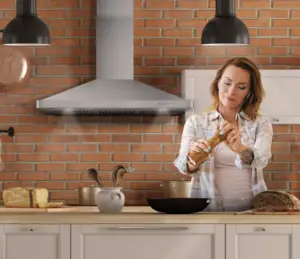 The Cosmo 63190 is one pick that comes with a style statement creating look plus some amazing standard air clearing abilities within the budget requirements. The Cosmo 63190 comes with a suction power of 380 CFM. And this rating is enough to handle a kitchen's harmful pollutant elimination needs with pretty ease. The noise level at max has been kept at 65dB which isn't very loud but with high settings, it could be noticeable.
There are permanent filters available with Cosmo 63190 and you don't need to replace them. These are maintainable with regular cleaning after capturing grease and elements. The filters are made from high-quality stainless-steel material to provide good durability plus functioning. You can control the powers as well as enjoy a three-speed setting with the push-button controls provided. These buttons come with illumination as well that will help you to use controls even in a slightly dark environment.
Also, the included LED lighting is a great way to have some energy-saving solutions in the kitchen. It creates enough brightness to observe the cooking spot even in a dark situation.
What We Think About It:
For the price point, the Cosmo 63190 is surely a fantastic heavy stainless-steel baffle pick to try. The installation won't be difficult and it also scores well with the brightness and speed settings. The two pieces of the chimney are however seeming to be off-matching. But still, it's a decent price pick to invest in.
Winflo 30 In. Convertible Stainless-Steel Wall Mount Range Hood
Highlighted Features:
Stainless steel made.
Centrifugal motor provided.
Operates quietly.
Chimney fits with 7.5 to 8.5 feet ceiling.
400 CFM rating.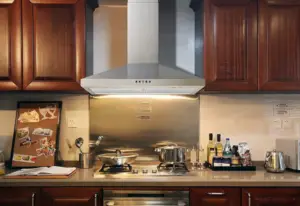 The Winflo 30 In. is a premium stainless-steel pick to go for that also ensures pretty highly engineered components for excellent quality. The design speaks elegance and performs pretty well with durability, power, and appeal.
The Winflo 30 In. comes with a power suction operational CFM rating of 400. It also comes with 3-speed levels to choose from depending on your cooking conditions. The provided push buttons are easy to press and much responsive. Also, it includes aluminum mesh filters that don't need replacement. These are removable and also dishwasher safe.
You can use 2 LED lights for the illumination feature. At the maximum speed setting, the Winflo 30 In. makes the highest 65dB noise. The Winflo 30 In. also features an adjustable and telescoping chimney. You can adjust it according to ceiling height which needs to be between 7.5 to 8.5 feet. Also, the Winflo 30 In. is a convertible styled range hood that will be able to support both your ducted or non-ducted installation wishes.
What We Think About It:
The Winflo 30 In. comes with ultra-bright LED lighting that has some strong illumination. Also, it provides pretty strong motor power maintaining a low noise level. Some may feel that the metal is a bit flimsy for durability, however with proper maintenance it should last you a good amount of time.
GASLAND Chef PR30BP Black Wall Mount Range Hood
Highlighted Features:
3-speed settings.
450 CFM rating.
Steel and aluminum made.
The black coating provided.
Dropdown height 26.0" at minimum.
Aluminum mesh filters provided.
Push-button control panel.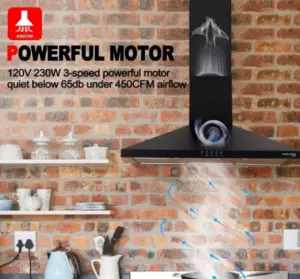 This black beauty called GASLAND Chef PR30BP is a wall-mounted style range hood that also features chimney style kitchen benefits with a powerful yet quiet motor on board.
The GASLAND Chef PR30BP comes with a two-part chimney that is adjustable and fits for the ceiling that is below 10 feet. It also comes with easy to push-button controls for simple functionality. The power extraction capacity is pretty optimal here. The GASLAND Chef PR30BP also comes with 2 built-in LED lighting of 2W that are energy efficient and bright enough for cooking space.
5-layer aluminum mesh filters are also coming along with this range hood and there are three in total. These are super simple to maintain and clean thankfully. Also, the motor is quite powerful that makes less noise even with a high setting. The fan speed settings are three to choose from and you can pick according to your cooking requirement.
What We Think About It:
The GASLAND Chef PR30BP is a pretty easy installation and powerful motor option to try within budget. It has excellent features for suiting modern kitchens spaces without any problem.
ZLINE ZLKB-30 KB-30 Wall Mounted Range Hood 
Highlighted Features:
Optimal charcoal filters.
760 CFM rating.
Stainless steel made.
7 to 12 feet clean height match,
4-speed settings.
The ZLINE ZLKB-30 is a mega CFM unit to grab with four excellent fan speed that will fit right into large kitchen space without any problem. The halogen lighting and convenient timer features are two of the fantastic benefit that screams quality.
The GASLAND Chef PR30BP is a range hood that does not include a just the stainless-steel finish but the true material for construction. The 21-gauge thick brushed stainless steel ensures a durable performance overall. It comes with four different speed setting benefits as well.
Also, the CFM of this range hood is 760, quite high for even huge kitchen spaces. It very effectively removes the cooking fumes in no time providing fresh air to breathe. The range hood will fit within ceilings that are somewhere between 7 to 12 feet in height. The provided baffle filters are dishwasher safe type.
What We Think About It:
The GASLAND Chef PR30BP is truly surprising with its capability of not producing noise even at a higher speed setting and that's probably something we loved the most. It comes with a beautiful built-in with moderately easy installation as well.
Hauslane Chef Series Range Hood WM-600 36″ Wall Mount Range Hood
Highlighted Features:
Stainless steel finish.
Tempered glass included.
Baffle filter included.
The 3-speed setting provided.
The motor is quiet.
Durable push-button controls.
6" ducted and ventless design.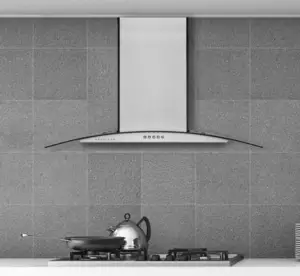 The classic canopy design included Hauslane Chef Series Range Hood WM-600 is a European style unit you would love to have in your kitchen area. The stainless-steel body with tempered glass finish really makes a blend that looks astounding beautiful.
The Hauslane Chef Series Range Hood WM-600 will fit right into the ductless kitchen requirements. The charcoal filters will be able to clean all cooking fumes through the separation of grease as well as odor reduction. The adjustable chimney cover is also a thing to praise about. With the feature, you will be able to fit it inside your kitchen with a ceiling height of 7.5 to 8.5 feet. There's also chimney cover extension support that allows you to fit it even in 10 feet ceiling height condition.
The provided LED lightings are good in energy efficiency. These illuminate the cooking area pretty well and so you won't be wasting anything but enjoying maximum brightness.
What We Think About It:
The Hauslane Chef Series Range Hood WM-600 will not feel a headache with the installation. It comes with an excellent mechanism to reduce greasy floor problems as well and that's something we really appreciate.
Cosmo 668A750 30 in. Wall Mount Range Hood
Highlighted Features:
Push-button controls.
LED lighting type.
Permanent filters provided.
Stainless steel built-in.
760 CFM rating.
60 dB noise levels.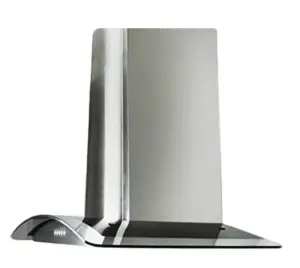 The Cosmo 668A750 is also a euro-style range hood that comes with a beautiful combination of stainless-steel body with tempered glass visor. The included baffle filters are easy to clean and also provides complete coverage of 760 cubic feet per minute.
The Cosmo 668A750 will be well to go with a ducted installation that needs ceiling height not more than 8.5 feet. The range hood also provides a suction power of 760 CFM and that's pretty huge for a large kitchen area's filtration process. It comes with permanent filters. These filters are made from stainless steel material. And also, you can easily maintain plus clean them through the dishwasher.
The Cosmo 668A750 comes with push-button controls for you to adjust the capabilities according to your kitchen needs. The LED lighting is pretty decent and would be bright for your stove area as well.
Those who want to enjoy a ductless performance will need to get the carbon filters separately.
What We Think About It:
The Cosmo 668A750 surely looks beautiful in huge kitchen space and comes with more features considering the low price point. We wish it was a little noisy though and also the instructions could have been a little easier. Other than that, its' a decent wall mounted range hood to try from Cosmo.
Golden Vantage Wall Mount Black Painted Stainless Steel Kitchen Range Hood
Highlighted Features:
30-inch size.
8 to 8.5 feet ceiling height required.
217 CFM rating.
65 dB noise level at max.
Touch panel control.
Black painted finish included.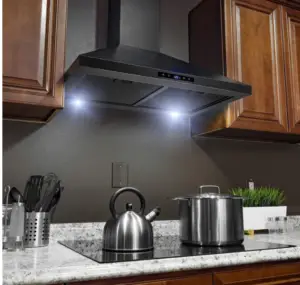 The Golden Vantage range hood is a true modern-day pick in this list that includes touch panel for easiest control with other multiple options. The 217 CFM hood is meant for small kitchen space that focuses more on modern features such as a timer, fan speed settings, and so on.
The Golden Vantage wall mount range hood comes with a professional quality motor that enables a 3-speed fan with fantastic durability as well as noiseless performance. The motor is also capable of working consistency during your cooking period while at the highest setting it shows slight noise that is avoidable mostly. Your specific needs should be fulfilled with this range hood that comes with vent our or a ductless option that requires a carbon filter.
The LED lighting is also very well placed providing ample brightness for cooking without visualizing the problem. It provides a touch control panel backlit screen and a very user-friendly interface altogether. The digital clock is also a valuable feature to clap on.
What We Think About It:
The designs of Golden Vantage wall mount range hood are very up to the mark and with the super simple installation, there's less room for complaint. For the price, it's a killer deal undeniably.
How To Choose the Best Wall Mount Range Hoods?
Some primary factors will always play an important role in choosing the finest wall mount range hood. And this segment is all on that matter. We will be breaking down some of the pro considerations that you must go through before finalizing the purchase on a specific model.
The Right Size
Most people will only worry about deciding the location where they would like to put the wall-mounted range hood. However, that's not the only thing to think about. You also have to consider the right size hood that would be capable of providing enough coverage to the stove's surface area.
It must be an ideal size to provide elimination of smoke as well as grease from the kitchen's rest of the areas. The size matter also has a direct connection to the aesthetic of your kitchen. If you get something too bulky, then everything will look out of the place. It's going to disturb your beautiful kitchen space's profile.
Lighting Facilities
There are many types of lighting options available with wall mount range hoods. Go for something that will provide ample coverage to the stove area and make it bright enough for comfortable cooking. For the brightest experience, it's best to stick with the ones that provide LED lightings. These are popular for providing maximum illumination. If your kitchen area is already enough illuminated, only then take this point less-seriously.
The Suction Power Check
This point basically tells you about the capability of moving air of that particular range hood you are looking at. CFM rating is used to measure this suction power. With bigger numbers here, you get better power for handing strong smoke and smell inside your kitchen.
If you cook occasionally, go for CFM ratings of 200 to 250. However, if heavy-duty cooking is the case then your ideal bet will be 450 CFM at least. The cooking surface or stove size, heat production, and also your kitchen area dimension will matter for choosing the right CFM.
Fan Speed with Adjustment Capabilities
Go for wall mounted range hoods that provide adjustable fan speed flexibility. This way you can have settings decided by yourself depending on your cooking tasks and time. Most of the modern models will provide 3 settings for you to adjust this fan speed. With the lower setting, you will have air circulation more freely that goes well with low volume or short cooking chores. You can raise the setting with the increasement of cooking time and volume, however.
What About the Filters?
Filters are the part of the range hood that basically traps all those particles and grease you want to eliminate from the kitchen air. And this is basically how the spreading of such unwanted stuff gets halted by the range hood.
With charcoal filters, you get double times better trapping functionality than the regular ones. However, you have to change them regularly as well. Aluminum or mesh filters are easy to remove, wash, and use but they won't be as good as the charcoal filter.
Loud or Quiet
Usually, range hoods that are stronger at functioning will produce a great amount of noise. But some modern wall mounted range hoods come with noise reduction technology that works well without the problem.
These are somewhat costly but so much worthy of high-quality features. So, if you need to work inside the kitchen for a pretty long time, then having a range hood without the bothersome loud humming noise will be better.
Frequently Asked Questions About  Best wall mount Range hoods
How often you need to clean the filters?
If you are someone who cooks very often and use oil frequently as well, then go for a cleaning every once in two months. For the ones who don't follow very regular cooking can go for deep cleaning of the filters once or twice every year.
How much time is necessary for installing a wall mount range hood?
Someone who is comfortable with such scale projects or DIYs will not need to spend a long time for such installation. In the usual case, it should take somewhere between two to three hours. However, that involves knowledge of such technical handlings. And that's why some homeowners prefer calling a professional for doing such installations quick plus properly.
What does convertible mean?
Convertible is a term referred for duct basically. It means that there can be different ducting modes with the range hood you are looking at. You can try both ducted and non-ducted usage with such hoods. And to do that, usually, the necessary parts are already provided with the hood. However, most manufacturers don't include the carbon filter. So that's something you may need to buy separately here.
What are the key dissimilarities between under-cabinet and wall mounted range hood?
The installation method is the main differing point in these two types of range hoods. The wall mount range hoods usually go with the wall for installation. On the other hand, you need to mount the hood under the cabinet with the latter type. Usually under cabinet hoods are also functional as wall hoods. But not all wall hoods can be installed in place of an under-cabinet hood.
What To Know Before Buying a Range Hood
Wrap Up
The ones who dream about having a modern kitchen with all the quality facilities will never skip the importance of best wall mount range hoods. The part a range of hood plays by clearing the odor and smoke from the air is definitely more crucial than most people's realization.
It's one of those must-have kitchen wizards that fulfill your wish of having the ultimate protection for all the furniture and surrounding appliance. So, when you take the step of choosing the right range hood, make sure you are not missing anything and throwing your money on poor quality.
Best of Luck on Getting a Capable Wall Mounted Range Hood!