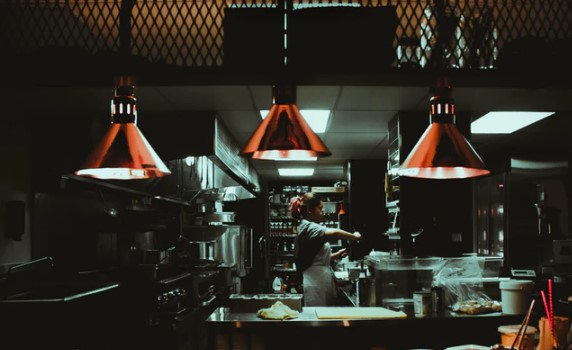 Lighting in your kitchen is something you can't take as a joke. It will affect the chores you're doing inside this space.
Imagine cutting yourself because there was not enough light to see the meat properly. Or maybe you just made the whole kitchen super-hot because the light makes heat.
So, you need to know in detail what color light is best for the kitchen and some similar other facts.
Let me tell you about modern kitchen lighting that will change the whole feel smartly.
What are the best light bulbs for the kitchen?
Light bulbs are an integral part of our day-to-day lives. We use them for everything: cooking, entertaining, reading, and even to get ourselves to sleep at night.
If you are looking to change the lighting in your kitchen, check out our list of top-rated light bulbs. We will tell you which ones are the best, and which ones are worth avoiding.
To get the best performance you should pick the following light bulbs for the kitchen:
Understanding Kitchen Lighting Design, Color & Other Factors!
It Depends on the Functioning
Most of the time, everybody measures lighting by three different categories, these are ambient, accent, and task. The first type called ambient is on the natural side.
This is a room's natural light that makes the overall space seem less artificial. It's the overall lighting of any room. The system will fill the entire space perfectly.
The next type which is known to be accent lighting is meant for highlighting a particular area. This is creating shadows and drama to pop up a nice deco concept.
Many likes to keep this lighting included within a particular space in their kitchen to show off expensive wine glasses or similar stuff. You may want to use such lighting in a showcase that holds all your luxurious kitchen accessories.
Finally, task lighting is a specific method to be brighter than ambient. The contrast needs to focus on a specific area. Under-cabinet areas in your kitchen will go well with such a task lighting option.
Sometimes pedant and track lighting goes well with task lighting. However, this will depend on how you are layering the lighting in a kitchen.
The bulb's brightness level will also be a point here. Proper lighting techniques can make the whole concept even more prominent.
Understanding Ratings for Light Bulb
You can't find similar rating light bulbs. These come with a different type of brightness level and color warmth. These come with various types of wattages and base styles.
However, this is not hard to pick a particular type of bulb for your kitchen area. Here are two units to choose suitable lighting for your kitchen.
Lumens
The brightness level of a bulb is defined by lumen rating. When lighting comes with more brightness this means the lumen rating is high. Sometimes it could be too high for making the entire room unrealistic.
However, there is a factor here. A room's brightness level has some other decisive facts to bring into consideration also. This can be the size of the room, light placement, wall colors, and other factors. So, it could be convoluted about what brightness to start with.
Some light models come with a lumen and watt calculator for an area you chose to place it in. This machine will only need you to pick a room and its entire dimension.
Next just put the selected illumination intensity and light placement. Also, decide whether the walls are light or dark.
Now simply calculate and you'll be able to see the lumens instead of watts with this.
Watts
How much power a bulb consumes is the watts. When you use LED bulbs then the matter of watt is not so important. For that case, lumens are more preferable to use instead of watts.
Modern LED bulbs are more favorable than the Incandescent ones that use high power. When you consider a 60W incandescent then this will emit less light than a similar power LED.
You should be looking for an 8W or maybe 12W LED bulb to get a similar lumen rating to a 60W incandescent.
The Types of Bulbs
The type of bulb will also determine how the lighting will look like. There is various kind of bulbs that performs differently.
Four basic types are incandescent, compact fluorescent bulbs, LED, and halogen. The first type is a conventional style that is being used for a long time.
These will give you a nice warm and glowing light. The second type is also known as CFL is 75 percent less in energy than the incandescent options. They also can last long.
These emit cooler tones. There are still various brightness and temperature levels available with these. It needs you to be careful about handling.
Since CFLs come with mercury. LEDs are kind of similar to CFLs but they do last around three times longer. These were favorable for task lighting since there is a harsh, direct light. However, like CFLs now these have come a long way.
The look is similar to incandescent but its efficiency is quite higher. LEDs are not hot as incandescent and they also go longer. However, the pricing for LEDs is also quite high. However, their utility rebated is available.
The final type is brighter with a white light that looks like natural daylight. It's known as halogen. For task lighting in kitchen cabinets, these do a really good job. The energy consumption is also ten to twenty percent less than incandescent bulbs.
Range of Color Temperature
There is three range of temperature for bulb colors. These are soft white, bright white a daylight shade. Soft white is 2700k to 3000k. The bright white range is 3500k to 4100K. For daylight, the range starts from 5000k to 6500k.
More kelvin means a better depth of whiteness. Lower kelvin reading lights are less white even when the same numbers of lumens are available. This is the same even when the actual brightness is not affected.
For kitchen lighting applications, soft white incandescent bulbs are most used over the years. However, this does not mean they are the only best options available.
One good example is the fact that because of warmer temperatures some colors are dragged out. Because soft white lights tend to take out warmer shades such as orange or red. So, the contrast is altering hugely in a space.
Keeping that in mind you need to choose a light color for your kitchen. Don't go for soft or warm white shades to use in the kitchen. These are preferable for bedrooms and living rooms where you need a cozy feel.
Use bright or cool white instead. These are efficient to bring energy into your kitchen and also, they suit garages and bathrooms. You may also want to try daylight colors that are great for cutting chores.
These are also favorable in bathrooms and basements. With the greatest color contrast, these fit best for kitchen usage.
What Kind of Fixture?
You know the functioning, temperature, and brightness points for your kitchen light decision. It's only wise to be careful with the type of fixture you are going to optimize.
Some common fixtures may be used but not each of them is good for kitchen application. The first type is ceiling mount fixtures. Now this category fixture is suitable for ambient lighting. However, you may want to use it inside the small storeroom inside your kitchen.
These come with a nice yellowish shade and require spacing out every eight to ten feet for the right amount of illumination. This kind is more preferable for hallways and task areas.
Chandeliers are not quite used for kitchen areas. But if you have small dining attached to your kitchen then maybe above the table a chandelier will look elegant. All-mounted fixtures are often used for kitchen appliances.
This is great for any lighting. However, you need to be decisive about where to put them with the right type of bulb to use. Pendant lighting is usually hanging from the ceiling and comes with shades to prevent glare.
These look classy in kitchen space with countertops or dining tables. Working areas look beautiful with such lighting.
The next type is recessed lighting. You can adjust the brightness and where to place it. These are great for general, accent, and task lighting. Most of the time, they look super convenient for any kitchen space no matter small or big.
Track lighting is versatile but it suits less in a kitchen. There are individual lamps around. If you have a corner in your kitchen with expensive utensils and glass showpieces then try decorating that space with track lighting.
Best Kitchen Lighting Tips
Final Verdict
A kitchen is a place where not only cooking but various other chores are done. So, you need multiple layers of lights there.
You can try the glowing recessed lighting for small and even big kitchens. When your kids sit for the homework while you chop the veggies for dinner, a nice island pendant or mini one in a row will create a nice hanging idea in your kitchen making enough light available.
Under cabinets will look nice with an accent and task lighting. This will take quite less space. On holidays it can be a great help when you have multiple chefs working in your kitchen.
Don't miss out on any point and think carefully about what color light is best for the kitchen along with the right design, temperature, and type. Something that will pop and match well with your kitchen decor.
Also, with a decent home backup generator, you can always keep the kitchen bright and lighted even in power outage moments.