Not being able to decide which kitchen mat or rug to get is a very common dilemma. So, if you are experiencing something similar, don't worry most of us do it too. Purchasing a mat for your kitchen that has a hardwood floor, makes some specific demands come in attention.
You would want something that won't harm your expensive hardwood floor, protect it from spills & stains and definitely emphasize the overall look like a minimal but effort making accent piece inside your kitchen.
Keeping all those points in mind, finding the best kitchen mats for hardwood floors must be a bit overwhelming. Let's help you with that today.
Comparing & Reviewing Best Kitchen Mats for Hardwood Floors
Let's keep things simple by starting with some recommendations we want to make that are great for hardwood floors and match most kitchen schemes pretty well. Have a look at the comparison table below and carry on to the complete reviews coming up right next.
What are The Top Kitchen Mats For Hardwood Floors list
NewLife by GelPro Anti-Fatigue Designer 5/8'' Comfort Kitchen Floor Mat
Highlighted Features:
5/8'' thick foam core used.
Steady and non-skid bottom.
Edges are beveled.
Resistant to stain
Grass cloth pattern.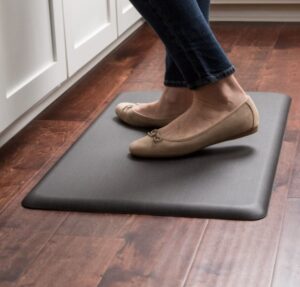 The NEWLIFE Designer 5/8" Comfort Mat is a fantastic option to try for kitchen hardwood floors to keep your leg less-troubled from any standing discomfort or fatigue because of long time work. It comes with amazing built-in quality, a pleasing design, and some beautiful color options to choose from.
The NEWLIFE Designer 5/8" Comfort Mat is made with a robust polyurethane material that is combined with the ergo-foam core. So, it's quite solid in construction, however, for best results, users find light-duty usage better.
The standing surface is very comfortable. And so, there are no chances of discomfort or fatigue. It prevents bottom out incidents, unlike the memory foam.
This waterproof and stain-resistant mat is also super simple to clean. It needs simple wipe cleaning with a damp cloth to get free from dirt.
What We Think About It:
Overall, the NEWLIFE Designer 5/8" Comfort Mat is a very smart choice considering the price point. It comes with easy to clean and move benefits along with durable performance. For this piece, it surely impresses a lot.
Pauwer Anti Fatigue Comfort Mats – The Comfortable Kitchen Rug
Highlighted Features:
5-inch-thick core foam used.
No compressing or break down the issue.
Edges come with advanced beveling.
Underside uses non-slip backing.
Vacuum or wipe cleaning supported.
Geometric pattern design.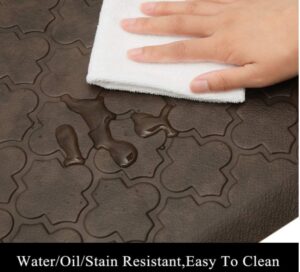 Anyone who is struggling to find a solid kitchen mat for their hardwood floor to avoid all nasty stains and water troubles can have a look at the Pauwer Anti Fatigue Comfort Mats. It's great with stain resistance as well as provides waterproof benefits. The Pauwer Anti Fatigue Comfort Mats comes with very high-density foam construction. So, it works amazingly for reducing any pressure as well as minimizing joint pain. The beveled edges also ensure a perfect surface that can avid slipping incidents.
Even in high traffic areas, the mat can stay in a solid condition. It comes with an appreciable long-lasting comfort as well as provides nice support. The bottom is anti-skim, which means you don't have to constantly move it for adjustments since it will stay in place. Simply by vacuuming or wipe cleaning, one can keep the mat clean for consistent use.
What We Think About It:
We find the Pauwer Anti Fatigue Comfort Mats a perfect option to place right in front of the dishwasher or kitchen sink area. It looks beautiful as well as feel comfortable. Having multiple pieces of these can be a worthy investment for kitchen hardwood floors.
U'Artlines Anti Fatigue Kitchen Floor Mats
Highlighted Features:
Uses non-toxic PVC material.
12 mm comfortable thickness.
Rough texture to avoid slips.
Withstands spills.
Wipe cleaning supported.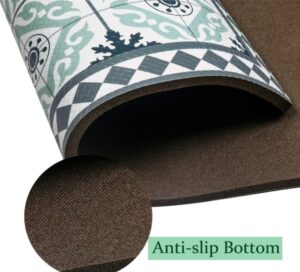 The U'Artlines Anti Fatigue Kitchen Floor Mats comes with the right amount of thickness and heavy-duty construction blended to provide you a long-lasting performance as well as play as a cute kitchen decor piece.
The U'Artlines Anti Fatigue Kitchen Floor Mats is a soft and cushiony option that provides a good balance for the supportive standing experience.It uses no phthalate or any horrible smell to keep the built-in not toxic. There's no chemical leaching with it as well. The half-inch thick mat also stays right in place without moving too much and causing slipping incidents. It comes with a very practical weight to support the non-slipping benefit.
With the decorative pattern, classic color, and effortless deco outlook, it feels pretty warm and bright as a kitchen accent.
What We Think About It:
For kitchen sink and counter space, the U'Artlines Anti Fatigue Kitchen Floor Mats will fit according to expectations. The nice cushioning feel is definitely a pro point of this easy to clean kitchen mat.
Simple Being Anti Fatigue Kitchen Floor Mat 
Highlighted Features:
One size available.
Six color options.
Geometric pattern.
Rectangular shape.
PVC built-in.
Pet friendly.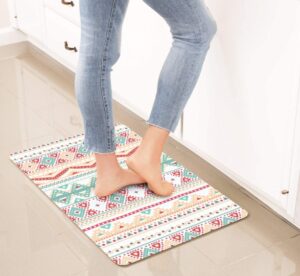 This heavy-duty standing mat is ergonomic by design and extremely comfortable with a non-toxic waterproof construction.The Simple Being Anti Fatigue Kitchen Floor Mat is both durable and ecofriendly in features. It comes with a non-toxic construction that includes high-density PVC materials. So, your kids and pets at home are safe with it around.
With the thick cushioning going on in this mat, it's both commercial and home kitchen friendly. It supports knees and feet by providing anti-fatigue quality. It works to minimize pressure felt on the lower back as well as joints as well.
The backing is anti-slip to avoid any accident and to keep things stable while you work. It does not only work amazingly on a hardwood floor but also ceramic, laminate, marble, concrete, and many more.
What We Think About It:
The Simple Being Anti Fatigue Kitchen Floor Mat looks great in any hardwood floor kitchen with its multiple color options. The texture and material do feel pretty high in quality. The standing experience is comfortable. Definitely it's a great option for the price it demands.
NewLife by GelPro Anti-Fatigue Designer 3/4" Comfort Kitchen Floor Mat 
Highlighted Features:
¾ inches of thickness.
Skid bottom provided.
Features beveled edges.
Simple cleaning.
Grass cloth pattern.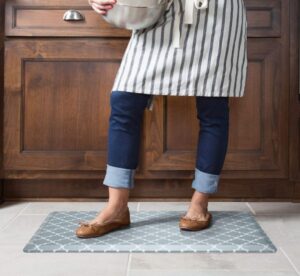 The NEWLIFE Designer 3/4" Comfort Mat is a thick ergo foam core option that provides nice slip resistance as well as stable experience with beveled edges.The NEWLIFE Designer 3/4" Comfort Mat comes with a polyurethane top surface that works amazingly with the ergo-foam core. It is quite good at providing light-duty benefits for kitchen usage.
The comfortable mat feels super stable and there are no signs of fatigue or discomfort even with a long time using. This one avoids bottoming out, unlike the memory foam.
The NEWLIFE Designer 3/4" Comfort Mat is made waterproof as well as it fights well against the stain. You can easily wipe the top using a damp cloth to make it clean and usable again.
It's a hand-crafted mat that does stand well along with the term of being anti-fatigue. It feels pretty premium for regular usage.
What We Think About It
The quality of NEWLIFE Designer 3/4" Comfort Mat is undoubtedly pretty satisfying for this price pint. There's no trouble standing on a hardwood floor that has one of these. However, the color seems a bit off and slightly not matching to the pictures. Despite that one negative point, it's surely durable, high quality, and affordable overall.
How To Choose the Best Kitchen Mats for Hardwood Floors?
Here are a few things that you should keep in mind while making a decision of which mat to get for your lovely kitchen that would also complement and support the hardwood floors.
Picking a Type
There are many types of mats to choose from for your hardwood floors in the kitchen. You can pick from regular rugs, floor runners, anti-fatigue mats as well as area rugs. These come with their own set of advantages and disadvantages. So, you should take into account the pros and cons to decide which one sounds the most balancing for your needs.
Choosing the Design
Kitchen mats or rugs are available in so many designs. It's a wide range from which you can pick according to your preferences. However, it's best to go for a design that won't look isolated in your kitchen space. You want to include something into your kitchen space that serves a purpose for overall décor, not just exist and feel invisible.
Simple to Clean
Kitchen mats are usually hassle-free to clean. But you still want to double-check the cleaning requirements. Go for options that support hand washing, simple wipe cleaning, or vacuuming. Some high-end mats also offer machine-washable features. However, these somehow wear out too soon. It's best to stick with conventional cleaning for that reason.
Stain Resistant & Waterproof
Hardwood floors are a mess to deal with once it comes in long time contact with stains and water. A mat that allows moisture build-up beneath it will definitely cause some issues for the flooring later on. Also, you want to place the mat in an area that is easy to get spills and stains due to cooking or kitchen chores. So that the mat can protect the hardwood from stains and spills. But to protect, it first has to be resistant to deal with stains itself. So, keep that in mind.
Frequently Asked Questions
What material rugs or mats to avoid for wood floors?
The ones that are made with rubber or latex are really harmful to hardwood floors. This type of mat will end up accumulating moisture beneath. And so, the wood's finish and color will be in serious trouble with passing time.
How To match the mat with existing kitchen Décor?
You want to match the rug or mat with the furniture or flooring of your kitchen. This way beautiful coordination will take place. With bright cabinetry or décor, you should go for neutral mats. Measuring the pattern or color of the mat with your existing wood floor's tone or grain is also a great idea.
How to figure out the right size for the mat?
You should go for a mat that will not feel as tiny as a dishrag and at the same time won't look like an entire space taker too. You should look for a mat size that will visually extend the kitchen's length. Usually, maintain a six inches gap between the mat and counter or cabinet plays well. Decide the size according to this fact.
Best Kitchen Mats for Hardwood Floors
Wrap Up
So that was some of our preferred best kitchen mats for hardwood floors that we wanted to recommend. A kitchen is a place where you share a lot of memories with cooking your child's favorite food or simply spend moments with your spouse while doing the dishes after a hectic day. Definitely you want everything inside your home, including your kitchen worth your delicate consideration, thoughtfulness, and requirements.
Take your time, scroll through promising options and sooner or later, you'll come across a beautiful hardwood friendly kitchen mat to get.