Pit Barrel Cooker has taken barrel cooking met had a step forward. It's An easy way of using and perfect flavor simply amazes everyone. Those who love outdoor cooking, Pit Barrel Cooker is ideal for them. This cooker cooks smokey, delicious, and mouthwatering meat with no hassle.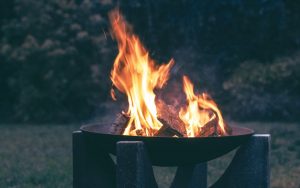 The Pit Barrel cooker is the combination of the smoker and the slow cooker that produces perfectly cooked meat every time. Pit Barrel Cooker heats meat from all sides through its" Hook-and-Hang" method, whereas traditional grills cook food from a single, direct heat source. That's why the cooked meat comes out perfectly delicious every time. If you own a cooker of this kind, you will need nothing else to enjoy 'vertical cooking experience '.But, the right knowledge and information is the must before purchasing.'
This Pit Barrel Cooker review will answer all your questions make you confident to pick the right one for you.
Important features of Pit Barrel Cooker
Two steel hanging rods and eight stainless steel hooks to 'hook and hang' the meat.
A standard cooking grate for grilling and searing.
Removable charcoal basket.
One wooden hook remover.
1 -3point barrel stand.
Easy to operate, yet produce perfect cooking results every time.
Its cylindrical shape allows distributing heat evenly and correctly.
30-gallon porcelain-coated steel drum.
Designed to work at a particular temperature.
Detailed information about Pit Barrel Cooker
The Pit Barrel Cooker is made of excellent quality durable steel. Its porcelain enamel coating helps it to resist adverse weather. Even if it is the shallow temperature outside, it performs its job very well. This cooker's most worth mentioning feature is the 'hook-and-hang' method.
This feature makes sure that the heat is evenly distributed, from top to bottom. Because of this feature, the cooker works like a convection oven, and the hanging meats smoke itself in its juices. The result is excellently smoked flavor at all times.
This Cooker also includes a removable grill grate that helps to use it as a grill to cook chicken pieces, steaks, hamburgers, fish, fillets, or vegetables. This cooker comes with eight steel hooks and a lifting tool that helps to hang meat from the bars over the charcoal fire. Whether it is racks of ribs or whole brisket, can be hung inside the cooker very nicely. It's 30 gallons steel drum is capable of cooking a vast quantity of foods at a time.
The Cooker is designed to work at the cooking temperature of around 300 degrees F.To get consistent temperature, Kingsford charcoal is best, though other charcoals can also be used. The advantage of Kingsford charcoal is its consistency of burn.
The operating system of this cooker is straightforward. It doesn't require to regulate temperature or smoke. It needs minimal observation.
Pros
Solid construction.
Simple design.
Equal heat from top to bottom.
Smoke fog' created from meat juice retains moisture.
The versatility of cooking.
An easy way of usage.
Faster cooking time.
Cons
Maintaining consistency of temperature.
Placing the meat or ribs is a little bit tricky.
Advantages of owning a Pit Barrel Cooker
Versatile cooking
A good range of dishes can be cooked in this Pit Barrel Cooker. It comes with a steel grill grate that adds extra benefit. Whether you want to sear a steak, make a hamburger, or want to make even fish, pizza, or cookies-it shows excellent results time and again.
Hook and hang' cooking method
It's 'Hook and hangs' cooking method is revolutionary for its extraordinary result. This method makes sure that the heat is evenly distributed. At the same time, the meat juices dripping from the hanging meat on the charcoal creates a 'smoke fog' that is the secret of delicious and yummy foods.
Fast cooking
Pit Barrel Cooker cooks food quicker and better than any other grill or smoker.You just need to follow the manufacturer's instructions correctly.
Durability
Durability is another important advantage of this cooker. The drum and the lid are made of steel and have been given fine porcelain enamel coating that ensures it's durability. This enamel coating also makes the cooker extremely weather resistant.
Portability
Portability is no wonder a significant advantage of the Pit Barrel Cooker. Usually, grills or smokers are heavy, and that's why can't be transported. But, this cooker is lightweight and compact. Therefore, it can easily be carried anywhere.
Reasonable price
In spite of high-quality features, the manufacturer manages to keep the price comparatively low.It is far better than the same priced grill or smoker available in the market.
Replacement parts available
All accessories and spare parts are available on the manufacturer's website or an authorized retailer.
Final thoughts
In spite of its wide range of applications, Pit Barrel Cooker is a product that can be the best value for your money. It is a great product not only for advanced users but also for novice cooks. As the final words of the Pit Barrel Cooker review, I would strongly recommend this cooker for its versatile grilling, durability, and Portability. Those who love well-cooked smokey meat and in search of such a product at a reasonable price, this can be the best option for them.