When replacement is the best solution, there is no point in changing the whole stuff. What do you do – when replacement leaves no option? I know, that's not a million dollars question at all.
Requiring replacement is quite normal. Even your premium quality range hood light bulb may require replacement shortly after you purchased them.
Sometimes, you may experience it, no matter how expensive and reliable the stuff is. It can happen with your lovely range hood bulb in the kitchen.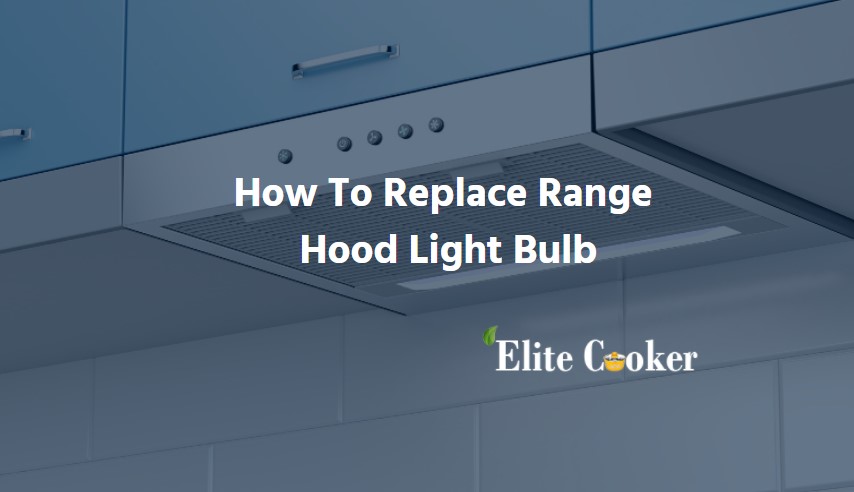 Interested to learn how to replace range hood light bulbs?
Well, you're at the right place to learn. Here, in this blog, I'm going to share how you can master it without damaging any of the kitchen appliances while saving money at the same time.
Isn't it amazing to start your first DIY project right now?
You can test your talent and patience with a range hood bulb replacement job. Here, in the blog, I'm going to tell you how you can do it.
How to Replace Range Hood Light Bulb
Before we jump into the process discussion, we need to address several facts regarding the range hood light bulb along with describing why you need your range hood bulb replacement.
The range hood bulb essentially lights up the cooking area making cooking exact and easier along with brightening the kitchen. However, you can get frustrated while you cook because of the poor brightness. In addition, it can pose a potential safety hazard in the long haul.
How to Replace Range Hood Light Bulb: When Should I Replace?
As everything has a lifespan, light bulbs also have a specific lifespan depending on the type of bulb and the materials. It means, it is inevitable to replace the bulb once the expected lifespan is finished.
If you're convinced to replace the light bulb, now you need to know what is the right time to replace the light bulb? Well, let me address the right time below.
Burn out: light bulb – be it halogen or LED can burn out by times. Whenever you come across the burn-out light bulbs underneath the range hood, don't take much time to replace them. Living with a burnout light may bring misfortune in the long run.
Insufficient lighting: sometimes lights can deliver poor brightness for several reasons. It may be due to insufficient CRI or the expected lifespan has over. whatever, replacing the bulb is recommended.
How to Replace Range Hood Light Bulb? A Step-by-Step Formula
Once you've made up your mind to replace the light bulb, purchase a qualified bulb first. You can get the best possible one from your nearest store or from here.
We recommend this amazing bulb (you can add your product link here). After getting a proper light bulb, maintain two steps to get the bulb installed in the range hood.
Step 1: Remove the Old One
Make sure that the vent is switched off before removing the old light bulb. Before that, disconnect the power outlet first. This is crucial as it involves health risks with an electric shock. It will keep your vent safe.
Now, form a small circle by sticking both ends with a piece of tape. You can apply masking tape or painter's tape at your disposal. When you go through this process, make sure that the sticky ends face outwards.
Glue this tape to the lens of the range hood lamp and pinch its opposite side together. Thus, you can shape a handle that makes it easy to hold. If you find this tougher, you can purchase a bulb suction from a hardware store.
Grasp the tape and mildly push up on the hood lamp. And turn it clockwise. Now, apply force but not too much. They are fragile so; they can easily break if you exercise heavy pressure.
Once the process is done, you'll see the lamp is out of the socket.
Step 2: Replace the New One
Slide the new bulb by sliding gently, the same way you removed the old one from the hood.
Push the new bulb and turn it counter-clockwise, Use the masking or painter's tape that you used before.
In the meantime, your bulb should get installed. Now, power the vent hood system and switch the light bulb. It should light up.
If there is any plastic fixture, fix it back.
Everything should go on nicely. However, if you find something is not working, check the electric wire. Take an electric tester and check intensively.
Can you put an LED bulb in a range hood?
The shortest answer to the question is "Yes". An LED light is in no way imperfect for a range hood. So, you have nothing to worry about if LED lights are alright in the range hood, while nowadays, manufacturers keep LED light bulbs in their minds during manufacturing range hoods for your kitchen.
However, you have to find the right one for the replacement. Along the line, make sure your light bulbs are compatible and find the following answers.
Is the bulb heat-resistant?
Is the bulb durable?
Is the bulb vibration-resistant?
Does the comply CRI (color rendering index) standard?
How to Replace range hood light bulb
Final words of range hood light bulb Replace Guide
Removing and replacing the range hood light bulb should be effortless. It also should take a little time to fix. Some DIYers told us that they replaced their light bulb within a couple of minutes.
It is possible when you know how to replace the range hood light bulb. We hope that you've got enough knowledge to start doing it yourself with the steps described above.