Last Updated on May 4, 2021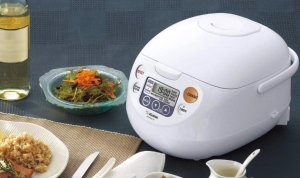 When it comes to rice, brown rice, or GABA rice, we often get the rice cooker. But what do you think about sushi or sushi rice?
Do we ever get the authentic Japanese taste? No worries, because now, you can get your favorite sushi in the authentic flavor. And so, we have come up with some amazing sushi rice cookers. These cookers are great in performance and also are sturdy enough for your residential use. All you need to do is go through them properly and then select which one is the best for you!
That's why it seems a bit confusing to find out the right one. In this review, we are going to share about the top rice cookers which are simply the best for it to buy.
So let's jump right into the incredible sushi makers!
Top Sushi Rice Cookers  list with Comparison
How we Have written these Reviews
To make you narrow down the overloaded choice list, we have put in our best efforts. Before writing this review, we have considered special facts like heating technology, multiple menu settings, useful accessories, digital control panel, etc. We have researched a lot and spent hours upon hours writing this unbiased article. Our goal is to introduce you to the best sushi rice cooker. That's why; we have listed some special cooking appliances in this choice list. Hopefully, you will be well-benefited with it.
Best Sushi Rice cooker Reviews and Guide
It is worth mentioning that we have researched a lot to narrow down your chosen list. We truly believe that it might be a great help of you to select a rice cooker for it. Here is the prior list that we have honestly made for your convenient use.
Panasonic Rice Cooker Review(SR-MS103)
Highlighted Features
Can hold 10 cups of rice
Can make rice, sushi, veggies, and cake
Pan made of charcoal
Dimple pan added
LCD screen
Keeps food warm till 12-hour
Slow-cook feature
15-min cook feature added
Steaming features included
Who doesn't know about Panasonic? They hand mind-blowing electrical equipment and one of them is their rice cooker. If you stay in a small family and you want to get a Sushi Rice maker machine, you can rely on this cooker. On the other hand, if you don't like rice yet you love sushi, you can get this one too! It can also make veggies for you too!
It is able to make 10-cup cooked rice. You can add 5 cups of uncooked rice to the cooker and wait for it to get doubled! All you need to do is get your meal out and eat it! There is a micro-computer in this cooker. There is an added feature called "fuzzy-logic." It is capable of adjusting the power so that it can afford you précised cooking. It also ensures a consistent result.
The pa of this cooker is basically made of charcoal and it is capable of improving your rice. The rice will get improved in terms of taste, color, and aroma. On the other hand, there is a simple pan too. The work of the pan is to expand the heat. It is able to expand the heat to 20% and so, you will get faster results when you are busy!
The cooked food, no matter it is rice or sushi, will stay warm for about 12 hours or so. The LCD screen of the cooker is orange and it is also large. And so, you are capable of seeing it properly.
The added features like the Slow-cook feature and the steaming features allow you to make better food in less time. Also, there is a 15-min cook feature. It can make a cake for you too!
Best Zojirushi Fuzzy Rice Cooker(NS-ZCC18)
Highlighted Features
Can hold 10 cups of rice
Non-stick pan
Spherical in shape
Comes with measuring cups
LCD timer and clock
Automatic-keep-warm feature
Extended-keep-warm feature
Retractable cord added
We have already said how the rice lovers love the Zojirushi rice cookers. But on the other hand, if you are a sushi lover, you won't be able to ignore this rice cooker too! This is basically a non-stick rice cooker. The capability of holding rice is about 10-cups. So, no matter how big your family is, you can always make food for them in the rice cooker.
Also, for your family, you will be able to make a rick in a very short period. It can make your dinner faster than any other rice cooker. There are multi-menu selections available for you. No matter what you are planning to eat, you can make it with your rice cooker. The food that this rice cooker makes is also healthy and rich in ingredients. The best part is this can keep your food warm for a longer period too. No matter when you cook and when you serve, you will not need to worry. It is because this cooker will make your sushi faster and will keep them warmer for you too.
There are also reheat cycles available. So, you can reheat the food in cycles. And whenever you want, you can eat them and get warm food! This cooker has an LCD screen along with a clock and timer. This timer helps you to know when the sushi or rice is ready. The retracted cord comes with the cooker. The pan is basically non-stick and in shape in a spherical shape. It can afford even heat to the food. This has computerized technology and it also comes with a warranty!
Zojirushi Induction Heating Pressure Rice Cooker
Highlighted Features
Can cook rice, sushi, and veggies
Steaming technology
Has platinum infused non-stick inner
Can reduce or extend the steaming time
Soaking time can be extended
Has an LCD control panel
Includes delay time and timer
Scorch feature added
Sushi will require less water
Yes, we can be never done with the Zojirushi rice cooker because when it comes to sushi, this cooker can cook the best meal for you! There are several foods that you can make in this rice cooker. It has multiple-menu for cooking several items. No matter you are here for the regular sushi or you want brown or GABA brown rice, you can get it all here!
It can make veggies and sweet rice too! It works with the steaming method and the best part is this has the ability to make your rice better. It can set witch which can extend the ability to extend the soaking time. Along with this, it can also extend the steaming time! The best part is you can also reduce the soaking time to half! The LCD control panel is easy to understand. It has easy to read and includes a clock. There is also the delay time added. There is a feature called Scorch with which you will be able to toast the rice. The rice will get a little crispy and will turn into a golden color!
Zojirushi NP-HCC18XH Induction Heating System Rice Cooker
Attractive Features of the Product
Zojirushi NP-HCC18XH features advanced Induction heating technology. It ultimately provides suitable heating adjustments. That's why the entire cooking process becomes well-prepared and flawless.
The multiple menu settings are another attractive feature of this Zojirushi product. Variety types of delicious dishes along with various brown rice classifications like GABA brown rice, germinated brown rice, etc. you can efficiently cook with it.
It features a digital orange LCD control. The timer function allows for suitable time management.
The detachable inner cooking container and lid are made of stainless steel. That's why it is durable and easy to clean.
There are melody and beep signal management associated with the cooker. It gives a timely signal when the cooking is resumed or finished.
If you are looking for a suitable rice cooker for sushi, Zojirushi NP-HCC18XH is a cooker with high technology-oriented features. It provides immense amenities with plenty of useful benefits for the consumers. For sushi rice preparation, you can widely use this Zojirushi product.
This special methodical approach efficiently produces fine and fresh rice. As it precisely manages the temperature, eventually, you will get fluffy and warm rice. Nevertheless, it determines easy cleaning up with an adjustable stainless steel exterior coated feature. Moreover, the automatically keep-warm mode is always ready to present warm rice before you for more than 8 hours. This feature of the cooker is highly beneficial for busy folks.
The bottom, side, and lead are a perfect triple heat-producing function that covers equal heat distribution to the inner pot surface area. The double setting-based delay timer eventually appears a blessing for the people who have actually had no time for cooking. These people can make the best use of it. The noticeable inner cooking container is thick and spherical in size. The extended keep warm featuring with one of these rice cookers for sticky rice is highly used for reducing drying. In addition, it can be used for versatile cooking purposes. For preparing white rice, sushi rice, GABA brown rice, porridge, etc. it can cut off your time and make it prepare within a short time.
What we Think about this Product
It will offer neither soft nor chewy rice. It will prepare perfect rice. It has been powered by MICOM technology. This is the most attractive thing you have ever seen.
The entire unit has a different language setting. Again, it has 1 year of warranty. That's how you can make easy replacement of the defected parts. We think this would be a wise decision if you buy this cooker.
Zojirushi NS-LHC05XT MICOM Rice Cooker & Warmer Review
Attractive features of the MICOM Rice Cooker
Zojirushi NS-LHC05XT MICOM features with special jasmine white rice setting that is unique feature of it.
The micro computerized fuzzy logic system is a convenient heating technology of this product. It provides a good adjustment between time and temperature that is exceptionally great for perfectly cooked rice.
It features with keep warming function that automatically switches to the function when needed. You can have extremely warm rice even if you are late at home.
Multi-functionality is another dynamic feature of this product. White rice, sushi rice, GABA brown rice, Jasmine rice, etc. can be prepared with this cooker.
The retractable power cord is a good addition to this cooker. It manages the power configuration and saves a lot of energy.
It includes GABA brown rice setting. That is convenient for brown rice lovers.
This Japanese cooker has a detachable steam vent cap feature. It prevents messy overflows of cooking rice in terms of high temperature.
Zojirushi NS-LHC05XTis a small rice cooker comes with 3 cups of uncooked rice cooking capacity. It has so many attractive benefits for the consumers. The GABA brown rice setting reaches 104°F and produces the rice within 2 hours. Besides this cooking appliance has sushi and white rice settings too. The washing-friendly inner lid is absolutely removable. The nonstick inner container allows easy cleaning adjusting with the perfect water level. That's why it is one of the best rice cookers for sticky rice. This portable cooker has been made of a retractable power cord. It becomes hassle-free for this excellent convenient system.
Each and every bite of the rice will be enjoyable for you when you have it. Perfectly steamed rice is a must to have with the right texture and freshness. The melody and beep signal instantly let you know about the cooking status.
What we Think about this Product
We recommend this product for the high-grade technology application by the manufacturer. It results in a perfect heating mechanism for the triple heater system.
Other necessary accessories like a spatula, measuring cups are including with it. So, we think this could be the right choice for you.
Zojirushi Neuro Fuzzy Rice Cooker  Review
The Neuro is another shake-proof model that is as solid as a Zojirushi rock. It may look like a child's toy, but is first-rate in its functionality.
Most Attractive features of this cooker
Extensive 10-cup model

Multiple configurations 

Nonstick spoon

10-Cup computerized cooker

fuzzy logic technology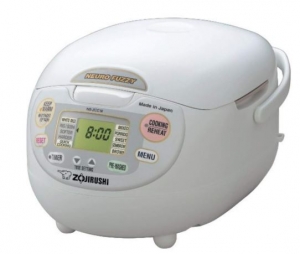 You get a robust capacity of 10 cups with a range of settings that range from a variety of white sushi rice to several semi-brown and brown varieties. Do not forget that the volume of rice doubles when cooking. With the Neuro you can prepare sushi without complications for the biggest dinner. The large screen is easy to read while the menu is easy to navigate.
The only complaint we have is the questionable design, but it is subjective. The main goal is to get exceptional rice for your sushi in bulk. That's what matters.
What we Think about this Product
We thinking from the buyer's end and feel like we can go for it. So far it has no issue about using and also one of the last long cookers. When you are in need of a rice cooker Zojirushi brand is a great option for us.   As a customer, we would love to save money and this cooker relatively cheap rice cooker would probably one of the coolest sushi rice cookers in this price range. 
Zojirushi NS-LGC05XB Micom Rice Cooker
Highlighted Features
Can cook different types of rice and sushi
Capacity: 180 ml
Fast cooker
Includes triple heater
Uniform heat distribution
Removable steam vent
Easy storage
Detachable inner lid
Retractable cord added
If you are here to get the best rice cookers for Sushi, you can get your hands on this amazing Zojirushi rice cooker. The best part is it has multi-menu cooking functions. There are added special settings for you if you want to make Sushi. Also, you are able to make mixed rice, brown rice, white rice, or whatever you want!
People that are fond of long-grain white rice or steel-cut oatmeal can be benefited from this rice cooker. Also, the quick-cooking procedure makes it easy for you to cook and serve whenever you want! It is capable of holding 180 ml of rice or 6 oz. ingredients. This measurement is based on raw short-grain white rice.
The interesting fact is this cooker has a triple heater. There are a bottom heater, side heater, and lid heater. So, if you are worried about the heat then you must know that the ingredients inside the heater will get heat from all around the cooker. At also, uniform heat distribution is ensured for sushi or rice for better cooking. The steam vent is also removable and there will be no messy overflow at all!
If you are thinking that the cooker might be tough for you to store in the kitchen then you are wrong! You can easily store this without any complications. Also, it has a retractable cord for better storage. The inner lid is washable and you can detach it for washing. The signals and the melodies can be changed according to your choice.
Aroma Housewares Professional Plus ARC-5000SB Cooker
Highlighted Features
Capable of holding 20 cups of rice
Able to make rice, sushi, veggies, and cakes
Multi-functional features
Saves time
Built-in steam
Slow-Cook feature
Sauté-then-Simmer or STS feature
User-friendly
Comes with accessories
People that are always up for cooking rice along with the other food in the rice cooker must settle for this sushi rice cooker. This has multi-functional use and if you are up for it, you should get this one. Go for rice or other steamed veggies or fluffy cakes or perfect sushi, no one will stop you if you have this cooker.
As this cooker is able to make almost everything for you, if you get this cooker, you are free from so many hassles. The best fact is the manufacture of this cooker is promised to make nutrient-rich meals for you. White rice, soup, or sushi, whatever you want will be there for you. On the other hand, it is capable of saving a lot of time.
The unique features of this cooker have made it one of the best cookers in the market. It has options like built-in steam. And so, steaming will be fun for you. Also, it includes the Slow Cook feature for cooking slowly but in cooking better. It has Sauté-then-Simmer STS feature too. It can make your meal tasty and rich too!
You will be able to make 20 cups of rice with the help of this cooker. The programming features of this rice cooker are very much developed. However, if you are a beginner, even then, you will easily understand the user-friendly operations of the cooker.  The digital panel is operator-friendly and also, it can keep your food warm automatically.
With this cooker, you get a whole kit including the non-stick pot and the steam tray. Also, the rice measuring cups and plastic rice spatula are included. So, you don't need to buy them anymore!
Zojirushi NS-TSC18 Micom Rice Cooker
Highlighted Features
Can hold 180ml rice
Can cook rice, sushi, veggies, etc
Several options for keeping food warm
Reheating cycle feature added
Made of coated stainless steel
2 different delay settings
Interchangeable signals and melodies
Added retractable cord
Guideline book added
If you are a rice lover and you have a little idea about cookers, you already know how people love this brand! The Zojirushi rice cooker reviews already tell how popular they are in their field.  This rice cooker is capable of making 10 cups of rice or 1.8 liters.
If you want to cook sushi and want to eat it afterward, you can do that with this cooker. It can easily keep your food warm for a longer period! There are options for keeping your food warm. There is an automatic-keep-warm option and it also includes the extended-keep-warm option. No matter how much time you want to keep your food warm, you can do it easily now!
There is also an option for reheating cycle. You can reheat your food automatically after a certain period of time. This will keep an ongoing cycle by cycle until you stop it! We all think that cookers are tough to clean by when it comes to the Zojirushi rice cookers, this is different. The cooker is easy to clean for anybody. The exterior of the cooker is made of coated stainless steel and so, the design is very charming. Also, there are two different delay time settings for your convenience. The signals and melodies are interchangeable according to your preference. There is a built-in retractable power cord added with the cooker too.
With the kit, you will get the necessary accessories that are required for cooking. Also, you will get a manual guide so that you can easily understand how to deal with the cooker. It can hold more or less 180ml of rice. There are different settings for different types of foods.
Zojirushi Rice Cooker and Warmer Review(NS-TSC18 MICOM)
Fuzzy logic technology
Zojirushi NS-TSC18 features the advanced fuzzy logic mechanism. It helps the user to manage both the cooking time and temperature well. Again, this high-end feature is great for mitigating the possibility of getting overcooked rice.
Keeping warm function
This is another attractive feature that provides a lot of advantages to people, especially for busy folks. When cooking is finished, it automatically switches to the keep warm mode and keeps the rice warm for a long time.
MICOM Technology
This feature is superb for offering the most desired functionality in cooking sushi rice. Since it contributes to providing different menu functions; you can utilize it to cook different food items apart from sushi.
Retractable Power Cord
This feature is highly applicable for saving energy. Also, it prevents any kind of interruption in cooking rice.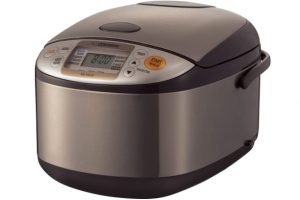 If you are desperately looking for a quality cooker in all aspects, These Japanese appliances will no longer disappoint you. It saves a considerable amount of time for every busy folk. It has 10 cups of cooking capacity. It has a dynamic steam setting including a steaming basket with itself. You can use this feature for steaming foods.
The solid construction is too good as it is made of stainless steel. That's why it is very easy to wash. Moreover, the melody and beep signal are there for a great service. In addition, a double setting delay timer helps to get fluffy rice even if you are late at returning home. Hence, it incorporates an excellent LCD control panel that is associated with beneficial clock and timer menu functions.
No longer have you needed to worry about checking rice at times when you have this LCD monitor. Moreover, the cleaning task seems easier for you as it presents a removable inner lid.
What we Think about this Product
Zojirushi NS-TSC18 model is versatile in cooking multi dishes like white rice, sushi rice, porridge, cake, etc. with its high-quality features.  It ends the cooking faster compared with any other conventional model.
Especially sushi rice is to get processed when finished cooking. This rice cooker for sushi is the best for handling it and offers a firm finishing for sure. We hope this is the perfect choice for you to prepare.
Zojirushi NS-WAC10 (Uncooked) MICOM Rice cooker and Warmer Review
Attractive Features of  Zojirushi NS-WAC10-WD
The Fuzzy logic technology is the most attractive feature of the Zojirushi NS-WAC10-WD cooker. It enables this cooking appliance to create suitable adjustments between the time and temperature.
The Fuzzy logic technology is the most attractive feature of the Zojirushi NS-WAC10-WD cooker. It enables this cooking appliance to create suitable adjustments between the time and temperature.
Auto keeps warm mode is another noticeable item adjusting this Japanese cooker with convenient use. When finished cooking rice, it automatically switches to the keep warm setting and makes the rice warm for an extended period of time.
It features different menu settings. That's why one can easily cook a variety of food items with it.
The inner cooking pan of this Zojirushi product provides fine heating and offers well-prepared rice with excellent heating technology.
It incorporates an instruction manual. The best thing about this feature is the dynamic language has been put here such as English, French, Chinese, Japanese, and Korean.
Removable power cord and the excellent delay timer incorporate with this cooker. You can make the best use of power configuration and use the delay timer to adjust to your busy schedule.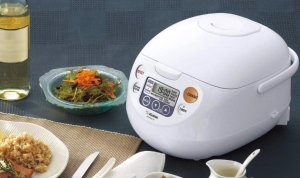 Zojirushi is a fully dedicated company that strongly rules the industry for its innovative and quality products. Following the same tradition, it offers another product with amenities. "Yes, this is Zojirushi NS-WAC10-WD cooker." It firmly designates the supreme MICOM Fuzzy logic technology. That means a micro-computer chip is strongly controlling the whole mechanism of the appliance managing the heat and time accurately.
Again, the wonderful digital LCD control panel manages the time with upgraded timer technology. It is very easy to use and provides so many amenities to the user.
The triple heater system evenly generates appropriate temperature that is useful for the wide range of usage of the consumers. If you are ready to cook different food items with this single cooker, you can easily do so.
Ask me how?
In fact, multiple menu setting prefers for making so many delicious dishes. You will love the special brown rice function that is being put here for good use.
What we Think about this Product
A double sensor heater is a perfect addition for special cooking purposes. It finally makes the entire procedure very easy to control. For better sushi rice, you can undoubtedly use the heating technology it provides. Again other useful accessories like a spatula, rice measuring cup, etc. have been added to make your cooking experience more user-friendly. So, why are you late? Just go and grab it quickly.
How To Make Sushi Rice in Rice Cookers
Final Words about Best Sushi Rice Cooker
Finally, we have come to the end of this review article. Now, you have learned a lot about sushi rice cookers. The mentioned cookers are highly upgraded with convenient quality features for perfect sushi rice preparation. Never get lost with so many choices on the marketplace. These Japanese rice cooking products and brands will definitely bring a lot of amenities to your busy life.
Every rice cooker above mentioned is not the best sushi rice cooker for everyone. It may vary from person to person.  But we explained what features and facilities have on these cookers. This is true we research to find the best performing cooker and took these for review. Be wise to pick your best one and Elitecooker can ensure you that these are awesome sushi rice cookers in the market. None of these will upset you.
I truly hope you will be happy to read this review. If you have any complaints and something to know, please let us know in the comment box. We will reach you as quickly as possible.