With the advancement of technology, every new invention makes our life easier and smarter. Rice Cooker is such a smart kitchen appliance that makes a kitchen smart and allows cooking rice more quickly and comfortably. Specially, those who take rice as staple food, rice cooker is a must have kitchen appliance for them. A rice cooker cooks rice perfectly, keeping the grains individual. There is no chance to remain under cooked or get over cooked as long as you have a rice cooker suitable for your needs.
Best Zojirushi Rice Cookers Comparison Chart
Images
Zojirushi NS-ZCC10 Neuro Fuzzy Rice Cooker
Highlighted Features
Computerized rice cooker
Neuro-Fuzzy logic technology
Multi-menu selections
Comes with measuring cups and spoon
Nonstick inner pan
LED timer and clock
Retractable cord added
Several keep-warm facilities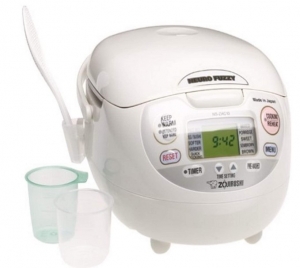 As the brand is amazing when it comes to the quality of the rice cookers, it affords you the top-notch products of the market. This is a computerized rice cooker. And so, you will get every benefit you need from this state-of-art rice cooker of the market.
This is a 5-1/2 cup rice cooker where you can cook rice for you and your family too. The technology that is used in the construction of this cooker is Neuro Fuzzy logic technology. This is very much convenient because it has the ability of wall-mounting.
Along with this rice cooker, there are two different measuring cups added. It comes with a nonstick rice scooper. Also, a rice spoon holder is added with the kit. If you are fond of making new recipes, you can try the recipe book of this cooker.
In the best Zojirushi Rice Cooker Reviews, the name of this cooker always stays in the leading position for the high-quality. The best part is this cooker has multi-menu selections so that you can select however you want to cook. The electrical rating of this cooker is 120 volts/ 680 watts. It can keep the food warm automatically with the automatic keep-warm facility. Also, there is an extended keep-warm facility for keeping the food warm for a longer period.
There are reheat cycles to serve you hot food whenever you want. Also, for even heat distribution, there is a nonstick inner pan. This is spherical. There is a timer added with an LCD clock. The retractable cord comes with the kit. The cooking settings have white, sweet, brown, semi-brown, rinse-free and porridge. There is also quick-cooking added to the menu.
Zojirushi NP-HCC18XH Induction Heating Rice Cooker
Highlighted Features
Induction rice cooker
Multi-menu functions for cooking
Capable of making different types of rice
Automatic keep-warm feature
Extended keep-warm feature
2 settings as Delay Timer
Triple heater for uniform heat
Comes with measuring cups and recipe book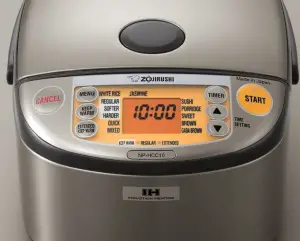 As the name says, this is an induction rice cooker and it also works as a warmer. The brand affords you this cooker at an affordable price. There are several cooking functions added to this cooker. You will be able to use them and cook the way you want. On the other hand, there is a triple heater in the cooker so that it can afford the food uniform heating facility. Your food gets heated up from the bottom, from the side, and the lid.
If you are going to make a delay when you cook, you can rely on the delay timer that this cooker affords. There are 2 different settings in this delay timer. The electrical rating of this cooker is 120 volts. With this cooker, you will be capable of making healthy food for the whole family. No matter you want regular brown rice or germinated brown rice; you can make it with only pushing some buttons!
On the contrary, you will also be able to cook GABA brown rice if you need it. If you want to cook before and serve later, you can have faith in the automatic keep-warm feature. For a longer period, settle for the extended keep-warm feature. It will be capable of affording you perfectly heated food
This cooker comes with measuring cups. According to the manufacturer, you have to go through the measuring cups when you cook rick for your family. Also, the recipe book is added for making your favorite dishes.
Zojirushi NHS-10 Rice Cooker
Highlighted Features
Rice cooker or steamer
Includes steaming tray made of stainless steel
Removable nonstick pan
Safe handling facility
Comes with measuring cup and spatula
Removable cord added
See-through glass lid
Automatic keep-warm feature
Can cook 6 cups of rice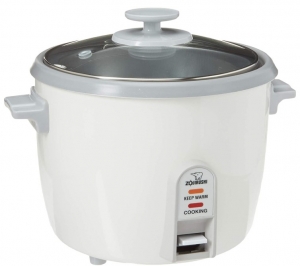 This rice cookers by Zojirushi can be called as a steamer. It can make rice along with the steam foods to make your family happy. This cooker is capable of cooking 6 cups of rice and you can feed the whole family. The capacity of this rice cooker is about 6 oz.  For connecting the cooker to the power, there is a cord added with this kit. The best part is the cord is removable. And so, it is also easy to store!
The handles are durable and made of materials that will not get heated. So, these stay-cools handles are completely safe for handling. It comes with the measuring cup so that you can measure the rice you are cooking. A spatula is also added with the box. The electrical rating of this cooker is 120 volts/500 watts.
The glass lid is see-through so that you can see when your rice is properly cooked. The inner cooking pan is made of nonstick elements. There are features like automatic keep-warm to keep the food warm. This starts after the food gets cooked.
The steaming tray that comes with this cooker is made of stainless steel. The inner cooking pan is removable. Also, it is very easy to clean.
Zojirushi NS-TSC10 Micom Rice Cooker
Highlighted Features
Micro computerized cooker
Can cook 5.5 cups of rice
Fuzzy logic technology
Automatic keep-warm
Extended keep-warm
2 delay settings
Beep signal with melody
Built-in power cord
Reheating cycles available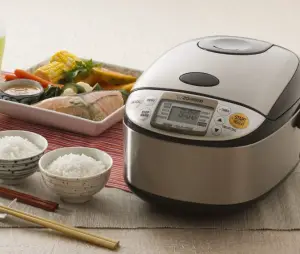 If you have a small family or you only want to cook rice for you, you can rely on this Zojirushi rice cooker. This is a micro computerized rice cooker that can easily cook rice for some people. The technology that is used for operating the cooker is fuzzy logic technology. It is capable of making 5.5 cups of rice for you.
The most comfortable part is it is very easy to clean this cooker. As the inner material of the cooker is easy to clean and the exterior is made of is stainless steel, you can easily clean it within minutes. This cooker features an interchangeable melody so that when you are not close, you can listen to the melody and know what is going on! On the other hand, there are beep signals too.
There is a built-in retractable power cord for connecting it to the power source. It has a keep-warm facility with an automatic feature so that you can keep the food hot. To keep the food hot for a longer period, you can use the extended heating features.
Reheating cycles are also included. If you need to reheat the food after some time being, again and again, to keep the food warm and ready to eat, you can do that by using this cooking feature. On the contrary, there are two different delay settings available here so that if you are going to delay the cooking a little, you are capable of doing that.
Zojirushi Induction heating pressure Rice Cooker
Highlighted Features
Induction rice cooker
Multi-menu settings available
Can cook different types of rice
Stem-reduce settings
LCD control panel
Scorch setting for special dishes
UMANI setting for extending steaming and soaking
User manual added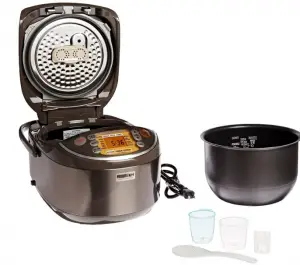 This induction cooker has multi-menu cooking facilities. No matter you settle for white rice, sushi or porridge, it can make your healthy food. You can also cook GABA brown rice for regular brown rice. There is a setting called UMAMI here. This helps you to extend the steaming time along with the soaking time. It can afford you better rice than before.
The user manual comes with the kit. Along with this, you will get an LCD control panel. The LCD panel lets you select your settings and helps you in operating the cooker easily. There are delay timer settings and clock added with the control panel. The clock lets you know when your food is ready and how much time it will require to make your food prepared.
You will also be capable of reducing the steam to 50%. This can make the cooking process a little slow but you will get better food quality. On the other hand, if you love crispy golden brown rice, feel free to use the Scorch settings. In such special dished, this Zojirushi cooker is a master! The electrical rating of this rice cooker is 120 volts/1370 watts.
Zojirushi NS-WAC18-WD Micom Rice Cooker
Highlighted Features
Micom rice cooker
Can cook 10 cups of rice
LCD control panel
User-friendly settings
Multi-menu cooking functions
Can make different types of rice
Comes with removable cord
Rice measuring cups included
Added rice spatula and spatula holder
When it comes to cooking for the whole family or the guests, you must settle for a cooker that is capable of cooking a good amount of rice together. In this case, you can settle for this Zojirushi rice cooker. It is a Micom rice cooker and it is capable of cooking 10 cups of rice together.
Here also, the Fuzzy Logic Technology is used for cooking rice. The LCD control panel makes it easy for you to use the cooker and control it. Operating it is easier than the other cookers and even if you are a beginner in the rice cooker sector, you can easily get used to it. There are multi-menu cooking functions added so that you can cook different types of rice.
You will be able to cook white or mixed rice, sushi, porridge or sweet rice. You can also get your hands on brown rice. The quick-cooking facility along with rinse-free features is also added with this cooker. You get a removable cord with the kit and so, storing it get easier than before.
With the whole Rice cooker kit, you get rice measuring cups. The manufacturer requests you to measure rice only with the measuring cups added with the cooker. Also, rice spatula comes with the set. A spatula holder is included for your convenience.
Must Checking Facts To Buy The Best Zojirushi Rice Cooker
Microcomputer technology
Zojirushi rice cooker includes Microcomputer technology that brings revolutionary changes in the rice cooker field. These rice cookers are far more advanced than conventional ones. The fuzzy logic technology helps to adjust cooking temperature and cooking time automatically in proportion to the amount of rice, the type of rice and many other factors. This technology allows the cooker to include numerous functions on its menu, making it a must for those who take rice as their basic food.
This technology ensures best cooking result irrespective of what type of rice is being cooked. No stirring or frequent observation is needed and no lumps are formed in the rice or other meal like porridge or Sushi. As the cooker think of its own, the chance of wrongly cooked food gets lesser. This feature helps save time as it doesn't require much observation and the person can do other chores while preparing meals in the cooker.
Versatile cooking
Zojirushi rice cookers are well known for versatile cooking. You can cook white rice, brown rice, wild rice, sushi rice, porridge or even mixed rice flawlessly in this rice cooker. You can even steam meat, fish or vegetables while rice is being cooked. This cooker includes umami settings that soak the rice for longer ensuring robust flavor of the meal.
Programmable audio indicator
The cooker has melodious indicator that is programmable too. You have option to change the sound of starting the cooking, finishing the cooking and reheating the rice. It can be programmed high, low or beeping sound as per your choice. It's 'twinkle little star 'melody is really nice to hear which is for starting the cooking or the timer cooking is set. And the other one is Amaryllis that sounds when the cooking is finished. This one is also pretty cool.
Helpful delay timer
If you have a very busy schedule and can't cook in time, this feature will help you a lot. If you need to go to work at early morning, all you need to do is put the rice in the cooker at night and set the timer to 6 am or 7 am. You will get readymade meal in the morning without wasting extra time.
Advanced keep warming function
Unlike other rice cookers, this Zojirushi rice cooker includes extended keep warming function and a reheating cycle option. When the rice is done, the cooker automatically switches to the keep warming function. It keeps the rice warm until you are ready to serve. It can keep the rice piping hot up to 12 hours. Moreover, you can be benefited from extended keep warm function, which works at a lower temperature to prevent dryness, dourer discoloration. If you have leftover rice, you can reheat it too.
Replacement available
If the non-stick inner pot starts having scratches, it can be replaced .You won't have to spend extra to buy a new one. Not only the inner pot, but also spatula, lid and other accessories are available as spare parts. That's why, this rice cooker is perfectly worthy for your money.
FAQ About Zojirushi Rice Cooker
How much water do I put in my Zojirushi Rice Cooker?
If you are going to cook white or medium-grain rice, you will need 1 ½ cups of water in every 1 cup of rice. In the case of white short-grain rice, for every cup of rice, you will need 1 ¼ cups of water. If you go for long-grain brown rice, you will need 1 ¼ cups of water for cooking one cup of rice.
What does H01 mean on the Zojirushi rice cooker?
There are times when you will see that the Zojirushi rice cooker is showing you an H01 error sign. So many people don't understand this. This is an error code that stays that the cooking unit is too hot for cooking another course. According to the cooker, you just need to let the cooker cool for some time and then start another cooking session.
What does H02 error does mean in the Zojirushi rice cooker?
In the Zojirushi cookers, sometimes, you will see the H02 error code. This denotes that the sensor is overheating. When the cooker is getting overheated, there are chances of damage. So, the best thing you can do in this case is to take out switch off the cooker for some time. And then, you have to all the stuff that is inside and let the cooker cool. After cooling, you can cook again.
What can I cook in the Zojirushi rice cooker?
There are several rice cooker models by the brand Zojirushi. Different models allow you to cook different types of rice. In most of the Zojirushi rice cookers, you will be capable of cooking white rice, sushi rice, and porridge. You will also be able to cook sweet rice or brown rice. There are several types of brown rice available like regular brown rice, GABA brown rice, and germinated brown rice. You can also cook these in your Zojirushi rice cooker.
Final verdict
Present world's busy lifestyle compels people to look for easy solution to save cooking time and hassle. Best Zojirushi rice cooker can be one of the effective solutions for that.As the final words of Zojirushi rice cooker review (NS Zcc10), I would strongly recommend you to buy one for its advanced technology, easy operating system and availability of replacement. Once you use this rice cooker, you will definitely be a fan of it.