How to clean grease off stainless steel range hood – would be your question for sure, if you forget to clean the steel range hood within time.
Range hood filter is one of the few kitchen appliances that is overlooked by many. If you're one of many, I should warn you that, you're going to mess up with your lovely kitchen making cleaning more complicated than ever.
The role of a range hood filter is to check grease keeping the kitchen cool. And you know how important it is. Therefore, if you don't keep it clean, it'll react badly in return.
So, cleaning the range hood filter at least once intermittently has no alternative.
Luckily enough! You can clean grease off stainless steel range hood by DIY applying any of the following methods!
How to Clean Grease Off Stainless Steel Range Hood
Cleaning grease off stainless steel range hood isn't as difficult as you think. We have tried several formulas to get it cleaned for years. All of them are quite handy. No hassle – if you maintain the process appropriately.
However, you need to know which one to take. To rule out the best formula to clean grease off, you have to measure the density of dirt. It means, if there is little dust on the range hood, don't apply the formula that is applied for the toughest stain.
Before learning the appropriate formula, some general tips for you.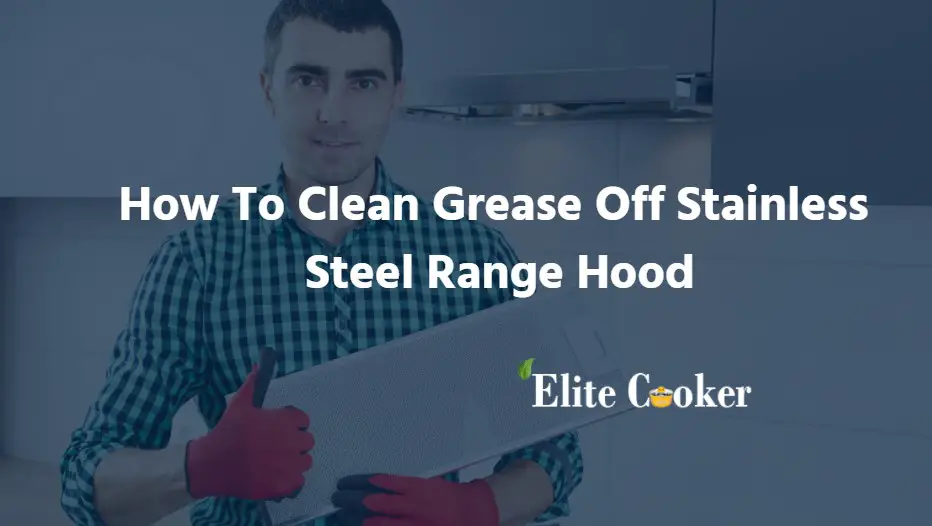 General Tips for Cleaning Stainless Steel Range Hood
No bleach or abrasive: Stainless steel is widely known for durability. Nevertheless, it can't fight with harsh chemicals such as bleach and scouring pads, wire brush, steel wool, and coarse sponge.
Such elements may cause the loss of original color and the durability of the stainless steel range hood filter.
Scrub in Favor: whenever you use the scrubber to clean the filter, keep the scrubber in favor of the grain. If you don't scrub in favor, the grain may leave leftover in response causing scratches. In addition, scrubbing in favor of grain will ensure lucrative finishing.
Clean Regularly: Cleaning regularly is a golden rule. Regular cleaning will keep the environment cool. Therefore, clean them once a week or at least periodically. However, you clean, make sure you don't use an excessive amount of oil. It'll end up being messy.
Find Appropriate Tools: there are specially-designed products for stainless steel range hoods available in department stores or many online marketplaces and many home improvements stores.
How to Clean Grease Off Stainless Steel Range Hood: Formula 1
To begin with, a lot of house owners try traditional methods to clean range hood filters. The method is pretty simple. The traditional method is applicable when the hood range can be cleaned with regular cleaning. For this, you'll need…
Dish soap and water, water solution and vinegar, or Windex (Any of these three)
Microfiber pad
Usually, a glass cleaner should be enough for regular cleaning like removing fingerprints. In that case, simply spray glass cleaner on the targeted area and wipe it off with a microfiber pad.
You can even prepare glass cleaner at home if you don't like to purchase it.
To prepare glass cleaner at home, put water and vinegar in a bottle. Now, spray wisely on the range hood and use a microfiber pad to wipe it off. And don't forget to mop in favor of the grain.
Another formula you can try if you don't like to spend much money. To do it well, list the following things.
Warm water
Mild dishwasher
Sponge or microfiber pad
To begin with, make a solution with warm water and dishwasher and spray on the range hood filter. Now, scrub the range hood with a soft sponge or microfiber pad and rinse the soapy water with clean water.
Now, get the range hood filter neat and clean by letting it get dry.
How to Clean Grease Off Stainless Steel Range Hood: Tough to Clean
If you're stuck with a range hood filter that is tough to clean, apply the following method. To master this method, you need the following stuff.
Acetone
Microfiber pad
Dishwasher soap
Dry cloth
Removing the tough dirt from the range hood is quite similar to removing nail polish from your fingers. Use harsh products like acetone or kitchen degreaser to deal with the tough stain on the range hood.
To remove a tough oily spot from the range hood, acetone or kitchen degreaser are way effective.
However, make sure that the window is open. Because you would require air circulation while doing this job.
Step 1
Wet the cloth with acetone. Scrub in favor of the grain.
Start with the difficult part of the dirt.
Rub off the cleaner.
Continue doing this until it gets clean.
Step 2
Remove the acetone and greasy residue. Use a microfiber pad or soft cloth with a solution of dishwasher soap and warm water.
Rinse the soapy water.
Let it dry. You can use a towel.
How to Clean Grease Off Stainless Steel Range Hood: Toughest Dirt
Sometimes, you may find the dirt of range hood even more difficult than you think. They are quite stubborn – difficult to remove, and you should deal with them accordingly.
However, you'll require some new stuff to do it. Find the following materials before…
Soft scrub with no grit
Old toothbrush
Microfiber cloth
White Scotch Brite pad
Step 1
Break down the stubborn grease with a white Scotch Brite pad, the best for dissolving the toughest stain that leaves no scratches behind.
Scrub with a soft cleaning pad. Scrub in favor of the grain.
You can use a scrubbing tool if you need it in demanding situations. Or a soft-bristled toothbrush can be tried with.
Don't take much time to wipe off the cleaner as soon as you have done scrubbing.
How to Clean a Greasy Range Hood
Summing Up
We've done with how to clean grease off stainless steel range hood. Start with the appropriate one to beat the dirt. Any of the three methods should suit your kitchen.
Apply the appropriate method to grease off the range hood filter. Once you've done it, you'll discover an easing atmosphere in the kitchen. Happy cleaning!